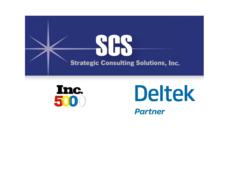 We are witnessing a vital need for our customers to have access to these services
Oak Ridge, TN (PRWEB) March 21, 2013
The constant evolution of government contracting almost demands fluidity in business modeling. Strategic Consulting Solutions (SCS) and LeGacy Resource Corporation (LeGacy) have become well-suited to making those adjustments based on nearly twenty years of combined experience either supporting or actively engaging in government contracting.
Laura Davis created SCS in 2004 incorporating a unique mix of accounting solutions geared specifically to meet the stringent compliance regulations placed on companies engaging in government contracting. Early on, Davis delved into beta testing of renowned Deltek government accounting software and embraced its power to solve compliance challenges. SCS's faith in the product has resulted in the company's current status as a Deltek partner enabling the firm to sell and implement the software.
Aside from software, SCS employs accounting professionals with extensive backgrounds in all facets of government contracting who engage in every aspect of accounting. Whether it's the basics functions of payroll processing and contract invoicing to a more specialized reporting such as Incurred Cost Submissions, SCS covers all of the accounting needs of its clientele. "We ae witnessing a vital need for our customers to have access to these services," said Davis. "Teaming with LeGacy will ensure success in accomplishing our mission," she continued.
LeGacy has an equally impressive background. Formed in 2002, this small disadvantaged, minority-owned business owned by Charles Crowe is a premier support services firm that has successfully completed numerous contracts with the federal government. Having performed a variety of services including management functions and staff augmentation, it's the need for Human Resource services, headed up by twenty-year industry veteran Jeffrey Ginsburg, the company sees as an emerging need by so many contractors. Corporate downsizing has forced most contractors to see the value of outsourcing many human resource services, and LeGacy has the capability to fill the gap at a competitive cost to its customers.
The convergence of SCS's back-office prowess with the strength of LeGacy's Human Resource dominance provide an incomparable solution to any government contractor's immediate and future need for back-office support. For more information about both companies and the premier services they provide, please visit their websites http://www.scsconsults.com and http://www.LeGacyCorporation.net.