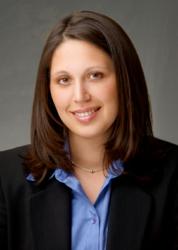 Utah State Bar President Lori Nelson states, "The Bar's vision is to lead society in the creation of a justice system that is understood, valued, respected, and accessible to all, and we commend Cecilia Romero for turning those aspirations into reality."
Salt Lake City, Utah (PRWEB) March 19, 2013
Holland & Hart LLP is pleased to announce that Cecilia Romero is the 2013 recipient of the Utah State Bar Association's Raymond S. Uno Award for the Advancement of Minorities in the Legal Profession.
Utah State Bar President Lori Nelson states, "The Bar's vision is to lead society in the creation of a justice system that is understood, valued, respected, and accessible to all, and we commend Cecilia Romero for turning those aspirations into reality."
Romero counsels clients involved in matters concerning commercial litigation, and labor and employment matters. She regularly represents clients in proceedings before the federal and state courts, guiding them through the complex litigation process.
The award's namesake is the Honorable Raymond S. Uno (now retired from the Third District Judicial Court), who was the first president of Utah Minority Bar Association.
Romero was instrumental in creating the Utah Minority Bar Association Diversity Pipeline Initiative that pairs attorneys from the law firm of Holland & Hart with minority service and leadership scholarship students from the law schools at the University of Utah and Brigham Young University. Romero and sixteen other Holland & Hart attorneys have committed to mentoring these students throughout their law school experience and beyond.
Romero was named by Super Lawyers among the "Mountain States Rising Stars" and in 2012 was recognized by them for Business Litigation and Labor & Employment law. Since 2006, she has been included in the Utah Business Legal Elite, and in 2010 she was honored by Utah Business as one of Utah's "30 Women to Watch."
About Holland & Hart
Holland & Hart LLP delivers integrated legal solutions to regional, national and international clients of all sizes.
Since its inception in 1947, Holland & Hart's more than 450 lawyers have consistently been recognized by leading national and international peer and industry review organizations for innovation and dedication to the practice of law.
For more information, visit http://www.hollandhart.com.