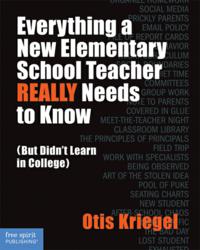 "Those who care about improving the quality of our schools simply have to hope that elementary teachers and parents will buy and read this book."
—Bob Kerrey, president emeritus, The New School
Minneapolis, MN (PRWEB) March 19, 2013
Free Spirit Publishing presents Everything A New Elementary School Teacher REALLY Needs To Know (But Didn't Learn in College), a new book from veteran educator Otis Kriegel. This teacher resource addresses the many "why didn't anyone warn me about this?!" situations that teachers encounter in their first years in the classroom—from organizing the classroom to talking to an angry parent to dealing with being covered in glue (or worse). Covering virtually every aspect of teaching, this "little black book" contains hundreds of tips and tactics that have all been learned the hard way: from real-life classroom experience. This teacher resource is based upon Kriegel's workshop, "How to Survive Your First Years Teaching & Have a Life," which he has conducted for hundreds of preservice and experienced teachers at New York University and Bank Street College of Education, among others.
Every year, U.S. schools hire more than 200,000 new teachers. Nearly half of those teachers leave the profession within five years—a burnout rate that costs the nation's school districts $7.2 billion a year in turnover (National Commission on Teaching and America's Future). With only half of the teachers surviving the steep learning curve, Kriegel proposes we increase the effectiveness of new teachers before they set foot in a classroom—by preparing them for the actual challenges they'll face during their first years of teaching.
"The first years can be terrifying for new teachers," Kriegel says. "They're worried about how to take their class on a field trip without losing a student or what to do when the door handle comes off in their hand and they're stuck in the classroom (yes, this has happened to me!). I wrote this book as a guide for new teachers who want to increase their confidence, and in turn, their effectiveness in the classroom."
Everything a New Elementary School Teacher REALLY Needs to Know is organized into four main parts:

Before the School Year offers an overview of the book, along with tips for effectively arranging and stocking the classroom, fitting into the school's culture, and establishing systems for managing each day.
During the School Year provides guidelines for teaching and working with students and building a productive relationship with the principal.
Your Students' Families covers cultivating smooth relationships with the parents and other family adults who are attached to the kids.
Your Life as a Teacher is all about balancing a sometimes overwhelming job with outside life.
Every chapter is chock-full of advice, tips, and guidelines that can be taken as is or tweaked to fit individual needs. Kriegel also includes true stories and anecdotes from his experience and that of friends and colleagues. Boxed "By the Way" sections contain quick tips and tidbits of information. Everything a New Elementary School Teacher REALLY Needs to Know (But Didn't Learn in College) offers knowledge, techniques, and strategies to ensure the first years in the classroom will be more effective—and joyful—for both teachers and their students.
###
ISBN 978-1-57542-428-6, $15.99, Softcover, 248 pp., 6" x 7½", Elementary Education/Teacher Resources, For new elementary teachers, preservice teachers, and administrators
About the author
Otis Kriegel is a 12-year veteran elementary school teacher, having taught in dual language (Spanish/English), monolingual, and Integrated Co-Teaching (ICT) classrooms. He received his M.S.Ed. in bilingual education from the Bank Street College of Education, and is adjunct faculty at the Steinhardt School at New York University. He has been a guest lecturer at Bank Street College of Education and City College of New York, among others. He created the workshop, "How to Survive Your First Years Teaching & Have a Life," which was the impetus for his book. An experienced presenter, Otis has conducted this workshop with hundreds of preservice and new teachers and continues to present in universities and teacher education programs. He founded the parent advice website The K5 (http://www.thek5.com) to help parents of elementary school-age children.
Otis has also published Suggestion (Chronicle Books, 2005), based on his work with NYC-based public art collective Illegal Art. His public art and multimedia work has been featured by Los Angeles Times, National Public Radio, and The New York Times (Op-Art), among others. You can reach him through his website, http://www.otiskriegel.com, and follow him on Twitter @mynameisotis. Otis lives with his wife in New York City.
About the publisher
Celebrating 30 years of meeting kids' social, emotional, and educational needs. Headquartered in Minneapolis, Minnesota, Free Spirit is the leading publisher of learning tools that support young people's social-emotional health and their educational needs. Free Spirit's mission is to help children and teens think for themselves, succeed in life, and make a difference in the world. Learn more at http://www.freespirit.com.
Praise for the book:
"Otis Kriegel is the teacher every parent wants their child to have. For those who care about improving the quality of our schools you simply have to hope that elementary teachers and parents will buy and read this book."
—Bob Kerrey, president emeritus, The New School
"When I first started teaching, I didn't even know what I didn't know. I was taking attendance by calling out kids' names, I didn't use a seating chart, and I couldn't figure out why it felt like my students were running the class. How I wish I'd had Otis Kriegel's book back then! This is an indispensable guide for any teacher, whether they're just starting out or looking for straight-up, sensible advice on how to improve their classroom and their practice."
—Dan Moulthrop, journalist, former teacher, and coauthor, with Dave Eggers and Ninive Calegari, of Teachers Have It Easy: The Big Sacrifices and Small Salaries of America's Teachers
"Challenging many of the night frights that haunt newcomers to the teaching profession, Everything a New Elementary School Teacher REALLY Needs to Know offers sweeping and practical guidance to the novice teacher. Through engaging anecdote and lucid reflection, Kriegel draws on his own professional journey in making a vital contribution to the field of teacher education."
—Michael Grady, Ed.D., Deputy Director and Clinical Assistant Professor, Annenberg Institute for School Reform at Brown University
"This book is a treasure trove of 'for real' tasty tidbits of advice. Kriegel writes well enough to read it through like a novel, but there is so much useful information I have placed it in a handy location, so when a question comes up or a school routine looms ominously in the near future, I can go to the table of contents and use the book like a good old-fashioned Farmers' Almanac."
—Jon Snyder, Dean of the College and Chief Academic Officer, Bank Street College of Education
"Otis Kriegel is the hurricane of fresh air that elementary teacher education needs today."
—Joseph Patrick Rafter, Ph.D, clinical assistant professor, Steinhardt School of Culture, Education, and Human Development, New York University
"A terrific guide filled with excellent tips and suggestions for new teachers."
—Steve Reifman, National Board Certified Teacher and author of Eight Essentials for Empowered Teaching and Learning, K-8
"Drawing upon his own years of teaching and reflections on what it means to teach well, Kriegel offers readers a practical, personable road map for how they can become better teachers."
—Brad Olsen, associate professor of education, University of California, Santa Cruz, and author of Teaching What They Learn, Learning What They Live: How Teachers' Personal Histories Shape Their Professional Development
"A delightful book, chock-full of practical advice for new teachers. Where else will you learn to keep a change of clothes handy (in case a child pees on you) or to tell a parent volunteer that the snacks are for the CHILDREN (and that she shouldn't eat them all herself)?"
—Clara Hemphill, founding editor of InsideSchools.org and author of New York City's Best Public Elementary Schools
"In these pages teachers will find ways to mend the disconnect they commonly feel between their reasons for choosing teaching and the fears about struggles in the early part of their careers. Covering crucial territory that is often overlooked in certification programs, without ever being rigidly prescriptive, Kriegel guides the reader with humor, care, and incisive intelligence. It's a book to devour from cover to cover, and to return to often."
—Andra Miletta, assistant professor, Mercy College
"Otis Kriegel has provided sound, pragmatic advice on the multitude of topics and issues that brand-new teachers brave in their first year. School administrators should enclose a copy of this book with every signed contract. Many teachers leave the profession within the first five years of teaching because they are overwhelmed by the vast responsibilities of the job. We administrators are challenged to find genuine, meaningful ways to support them. Kriegel taps into his substantial teaching experience to weave together a comprehensive roadmap to student success and support, coupled with increased teacher satisfaction and competence."
—Lois Kortum, 40-year veteran independent school administrator
"Finally, a practical survival guide for first year teachers that provides the blueprint for what you need to do—and how—to be an effective teacher. Every teacher beginning their career should have this book."
—Andrea Franks, 25-year veteran 4th- and 5th-grade teacher, New York City
"More than a job, teaching is a way of life. More than a book, this volume is a companion along the way. Lighthearted and appreciative, Otis Kriegel's book recognizes the challenges and joys of this endlessly complex, challenging, and rewarding profession. It offers insight and encouragement to beginning teachers—and contains more than a few tips on survival! You'll want to meet Otis for a cup of coffee at the end of the school day."
—Susan Crosby, National Board Certified Teacher
"The section on 'Your Students' Families' is a must-read for all parents. It contains information on how you, as a parent, can build a better relationship with your child's teacher so that your child's school experience is enhanced. While the chapters are presented from a teacher's perspective, they clearly show how parents can help in nurturing an effective teacher. In fact, I recommend the entire book to parents in hopes that they will have a better understanding of what it takes to be a teacher!"
—Shino Tanikawa, member, Community Education Council District 2, New York, NY
"Teaching is not easy, especially those first few years. This book aids you through those moments when you wonder why on earth you have decided to be a teacher and helps ground you in the normalcy of chaos that is being a first-year teacher. Otis's advice is practical, his experience is real, and the lessons are incredibly valuable. Even an old teacher like me can still learn a thing or two!"
—Fran Snowise, 10-year veteran K–8 teacher