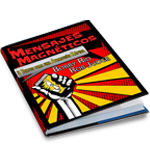 Hoboken, NJ (PRWEB) March 25, 2013
Last year, dating experts Bobby Rio and Rob Judge released a course called Magnetic Messaging. This course was focused on giving advice to guys about how to successfully communicate, flirt, get dates with women using text messages. Now, the two authors have announced that they are publishing a Spanish language version of this course called Mensajes Magneticos.
Mensajes Magneticos will have the same advice and the same structure as the English language version. After highlighting misconceptions that many guys have about how to communicate by SMS, Mensajes Magneticos offers advice and strategies that guys can use to communicate successfully with girls via text. One central idea of the course is the use of certain sequences of texts to perk a woman's interest and get her to think romantically about you. Rio and Judge offer sample sequences that they say can be used to get the best result in a variety of situations.
According to Rio, making a Spanish language version of the program is a logical part of the progression of Magnetic Messaging. "Magnetic Messaging was so well received. Both me and Rob hear from guys all the time who used the texting advice from the course to really change their luck with women. When you get something like this that readers are able to apply so successfully in their own lives, the obvious next step is to share it with a wider audience."
Judge adds, "I see Mensajes Magneticos as something that can have a kind of global appeal. Me and Bobby have spent time traveling all around the Americas, so we've seen firsthand that guys have the same kind of failures with women no matter where they live and no matter what language they speak. With the Spanish version, we can reach a whole different group of guys who can really change their luck by using the strategies that we teach."
Rio has worked on other courses, including the popular What to Say, and has written a dozen ebooks that are sold through Amazon.com. Both Rio and Judge write dating advice columns for the TSB Magazine web site.
Mensajes Magneticos will be the first course published by TSB authors in Spanish. However, the publication coincides with the launch of TSBMagHispano.com, a Spanish language site from TSB's creators.
TSBMagHispano will offer the same kind of dating advice and men's interest stories that are found on the original TSBmag.com site. A lot of specialized content, specifically created for a Spanish speaking audience, will be published on TSBMagHispano as well.
Learn more here: http://www.tsbmag.com/mensajes-magneticos/