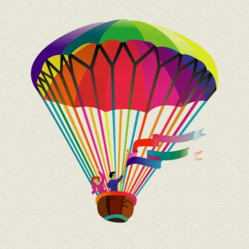 Berkeley, CA (PRWEB) March 21, 2013
Today, Ten Speed Press announced the release of What Color Is Your Parachute? Job-Hunter's Workbook Tablet Edition, a digital version of the core self-inventory exercise that has made What Color Is Your Parachute? by Richard N. Bolles, a household name. This job-search preparation guide (based on the Flower Diagram in his best-selling book) provides job seekers with a powerful self-assessment tool to identify viable job skills and develop highly individualized self-marketing strategies.
Created in collaboration with Smashing Ideas, a Seattle-based digital strategy and product company, and available in iTunes and the NOOK Store, Parachute's key tool that gets to the heart of job-hunters' career goals—what Bolles refers to as "that one piece of paper"—is now fully interactive, delivering a one-of-a-kind roadmap for exploring and applying individual interests and attributes to the job search. The immersive digital version does all of the legwork in determining a job seeker's most marketable and transferable skills. Enhanced features include:

Targeted questions uniquely designed to uncover one's goals, interests, traits, and aspirations
Answers that can be digitally recorded and adapted to serve each individual job search
A snapshot that translates personal interests into marketable job skills, instantly accessible for a variety of job interviews and resume revisions
An attractive diagram to track progress and display progressive results
Comprehensive, fully integrated tips and hints that help prioritize tools
'Post-it' style reminders
An exercise (based on the Mulholland Code) to determine preferred working conditions
Easy-to-view results lists
Fill-in options to record personal stories and gain unique insight for the job search
A skills grid to help job-seekers target expertise and unlock potential
Convenient layout options
A salary calculator
For more than forty years and with over ten million copies sold, What Color Is Your Parachute? has been recognized as the world's best resource for up-to-date information on the fast-paced, ever-changing job market. This digital companion workbook brings new efficiency to Bolles's long-established expertise, providing job-seekers and career-changers with an unparalleled tool to assess their strengths and win jobs.
What Color Is Your Parachute? Job-Hunter's Workbook Tablet Edition is available for $5.99, for the iPad from the App Store or at AppStore.com and for the NOOK at nook.com.
Device Requirements
Compatible on iPad (iOS 5.0 or later), Nook, Nook HD and HD+.
App Store link: http://bit.ly/13XX8Y6
NOOK Store Link: http://bit.ly/148rdnH
Press Kit: http://bit.ly/YGgr0l
About Richard N. Bolles
Richard N. Bolles has led the career development field for more than forty years. A member of Mensa and the Society for Human Resource Management, he has been the keynote speaker at hundreds of conferences. Bolles was trained in chemical engineering at Massachusetts Institute of Technology, and holds a bachelor's degree cum laude in physics from Harvard University, a master's in sacred theology from General Theological (Episcopal) Seminary in New York City, and three honorary doctorates. He lives in the San Francisco Bay Area with his wife, Marci, and is available for interviews. Visit http://www.jobhuntersbible.com.
About The Crown Publishing Group and Ten Speed Press
The Crown Publishing Group, a division of Random House, Inc., is the industry's leading publisher of illustrated and lifestyle books. Ten Speed Press, an imprint of the group, partners with cultural icons like Mollie Katzen, author of The Moosewood Cookbook, and Richard N. Bolles, author of What Color Is Your Parachute?, and other notable and award-winning authors to produce beautiful, profound, and life-changing books. Visit http://www.tenspeed.com.
About Smashing Ideas
Smashing Ideas is a digital product strategy and development company. They bridge physical goods, media and services through connected experiences that are simple, intuitive, and fun to use. Founded in 1996, with offices in the U.S. and UK, the company's clients include Discovery Communications, Sony, Random House, Toys R Us and Mattel. Their websites, mobile applications and digital solutions have received over 50 awards, including a Primetime Emmy nomination. Visit http://www.smashingideas.com.
Digital news from Random House, Inc. and the Crown Publishing Group