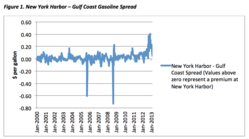 The U.S. refined products market has entered a phase in which the RFS discourages the supply of gasoline and diesel into the U.S. market.
Washington, DC (PRWEB) March 20, 2013
Gasoline prices are likely to experience volatility going into the summer driving season as regulatory constraints prevent the market from adequately adjusting to supply imbalances and discourage supplies from entering the U.S. market, according to a new report from the Energy Policy Research Foundation, Inc. (EPRINC) released on March 15. The report examines the cause of the recent New York Harbor - Gulf Coast gasoline spread, which cost East Coast drivers between $1.5 billion and $3 billion over a six month period. It also looks at potential sources of market turbulence going forward, such as the Jones Act and Renewable Fuels Standard.
The full report, entitled "Get Ready for a Bumpy Ride - It Could be a Turbulent Year for Gasoline Prices" is available for download free of charge at http://www.eprinc.org.
EPRINC's report finds that, "A combination of economic and infrastructure issues culminated in the record NYH - GC spread, but regulatory constraints prevented the spread from being addressed earlier...the spread currently sits at a more 'normal' level of about $0.05 per gallon. However, it is far from certain that this calm will persist given the upcoming summer driving season, the tenuous supply situation in the Atlantic Basin (U.S. East Coast and Europe), and several regulatory hurdles which are emerging as serious barriers to the supply of refined products in the United States."
About EPRINC
EPRINC produces research reports, articles and primers which are made available to the public free of charge on our website at http://www.eprinc.org. Our publications seek to educate the general public, policy makers, and the media about energy markets and the economic costs of various policy initiatives.
The Energy Policy Research Foundation, Inc. (EPRINC), formerly PIRINC (Petroleum Industry Research Foundation, Inc), was incorporated in 1944 and is a not-for-profit organization that studies energy economics and policy issues with special emphasis on oil. It is known internationally for providing objective and technical analysis on a wide range of energy issues. EPRINC is funded by a variety of donors including industry participants from the private sector as well as the government.
EPRINC's staff has decades of combined experience in both industry and the Federal Government.
In addition to its publications, EPRINC regularly presents its work before policy forums in Washington such as CSIS and the Brookings Institution, as well as international oil and gas conferences including CERI, Oil and Money, CWC Kurdistan-Iraq Oil and Gas and various Platts events. EPRINC often testifies before Congress on a wide range of energy issues.