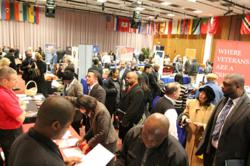 Newark, NJ (PRWEB) March 18, 2013
The GI Go Fund, in partnership with Mayor Cory Booker, the City of Newark, Rutgers Office of Veteran and Military Programs and Services, and Rutgers-Newark, hosted their 5th annual "Job and GI Bill Fair" in Newark, NJ on March 18 from 10am-2pm at Rutgers-Newark's Paul Robeson Campus Center, 350 Martin Luther King Blvd.
More than 75 companies, colleges, and support services participated in this event, including Johnson & Johnson, PSEG, Verizon NJ, Cablevision, Bank of America, Port Authority of NY/NJ, FDNY, and the FBI. Companies were looking to hire qualified and hardworking veterans and to capitalize on the Returning Heroes and Wounded Warrior Tax Credits, which will provide a tax credit of up to $9,600 to employers who hire veterans.
Johnson & Johnson, a company who has been recognized for its great leadership in hiring returning veterans, offered a wide array of employment opportunities at their Fortune 100 company to vets looking for work.
"We love hiring veterans because, as one of the most diverse companies, we find that the Military is one of the most diverse organizations in the world," said Russ Clayton of Johnson & Johnson, an Army Veteran who served in Iraq. "They provide some of the greatest leaders in the world, people who know how to work in teams and drive results. They are dedicated to making people's lives better, and that is what Johnson & Johnson wants to do every day. We come to these Job Fairs, and every time we meet somebody who is so talented and has so many different skills that can only come from years of experience in the military. It's amazing to see the amount of talent that we do in just a few short hours, and we are glad to have the opportunity."
This event also continued on the GI Go Fund's efforts of making Newark a Model City for Veterans by providing veterans with new and unique opportunities and services unlike any city in the country. The Job Fair actively recruited veterans to become members of the Newark Police Department to fulfill Mayor Booker's pledge of adding over 50 new officers to the force, providing vets with information about the state's Veterans Preference and the Civil Service Exam. This was a continuation of last year's great achievement, as Newark and the GI Go Fund made history by becoming the first city to recruit all veterans of Iraq and Afghanistan to the newest class of firefighters for the Newark Fire Department.
The 2013 "Job and GI Bill Fair" was the first major veterans hiring event since the Sequester went into effect on March 1st, which is leading to massive problems for current and former military personnel. As Sequestration causes hiring freezes, furloughs, termination of temporary employees and the canceling of certain equipment maintenance contracts in the Defense Department, this event helped the numerous veterans affected by the cuts with new employment opportunities from dozens of major companies in the area.
In addition, this Job Fair had in attendance countless veterans whose lives were devastated by Hurricane Sandy and the slow response by the federal government, where they found employment opportunities and links to FEMA, Department of Housing and Urban Development, and other critical services that will help get their lives back on track.
"In a time when strong leadership is necessary, Washington DC has let us down, and the military that members of Congress swore an oath to care for suffers yet again," said GI Go Fund Executive Director Jack Fanous. "So that is why in Newark, where we have built a Veteran Model City, businesses and community partners will come together to tell Washington that if you won't work together to do your job to support our military veterans, then we will do it ourselves. I was glad to see FEMA and other federal services here, and we are always excited to give government agencies the opportunity to do the work they promised to do."
According to the February report from the Bureau of Labor Statistics, veterans of the Post 9/11 era are currently suffering from a 9.4% unemployment rate, almost two points higher than the national average.
The Annual Job and GI Bill fair also had dozens of colleges and universities looking to enroll veterans who wish to utilize their Post 9/11 GI Bill benefits to earn their degree, or use their VRAP benefits to receive retraining benefits for 21st century employment positions. Among the universities in who attended were Rutgers University, Bloomfield College, Thomas Edison State College, Rider University, Princeton University, and St. Peter's University.
Sponsors and partners for the event include Johnson & Johnson, Rutgers University, Rutgers-Newark, PSEG, Verizon NJ, City of Newark, Greater Media NJ, NJ Chamber of Commerce, AXA Equitable, and the Newark One Stop Center for Career Development.