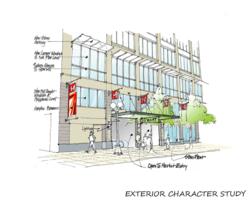 The 'H' in H Mart is derived from a Korean phrase meaning 'arm full of groceries'.
Seattle, WA (PRWEB) March 19, 2013
KG Investment Management is pleased to announce that global Asian supermarket H Mart will open a specialty grocery in downtown Seattle's Broadacres Building at 1601 Second Avenue on the Northwest corner of Pine Street. Slated to start construction in the fall and open in early 2014, the 15,000 square foot downtown Seattle store will be located in the lower level of the Broadacres Building with entrance escalators off Pine Street. The Broadacres Building is owned by Principal Real Estate Investors of Des Moines, Iowa.
In response to the Puget Sound Area's growing Asian demographic (people of Asian or Pacific Islander descent more than doubled their presence locally in the last decade), H Mart's downtown Seattle location marks its fifth in the region. Currently with three stores in the Pacific Northwest and a new one ready to open in Tacoma this month, the downtown Seattle store greatly strengthens H Mart's visibility in the Greater Puget Sound area.
"This expansion provides H Mart the opportunity to serve customers from the city of Seattle, the Pacific Northwest Region and around the world," said Maria Royer of Real Retail, leasing agent for the building. "Customers will discover that H Mart is synonymous with ethnic cuisine and the perfect complement to Pike Place Market. Visitors looking for cultural diversity in food will enjoy their unique and one-of- a-kind offerings."
H Mart (the "H" is derived from a Korean phrase meaning "arm full of groceries") provides a comprehensive stock of Asian groceries, competitive prices in the produce department, including hard-to-find items, a huge array of seafood, a high-quality meat counter and freshly prepared deli items. In addition the store will hold neighborhood events, and offer cooking tips and samples from a demonstration kitchen. For more product information, see H Mart's online store at http://www.hmart.com.
With the announcement of the H Mart deal, the 120,000 square foot Broadacres Building is now 78 percent leased with 15,000 square feet remaining at street and mezzanine level for a restaurant or retail use. Maria Royer of Real Retail, Inc. represented both developer and client in the deal. Sclater Partners Architects has prepared the space for tenant improvements on behalf of the landlord with structural engineering services provided by Perbix Bykonen and Key Mechanical providing HVAC.
ABOUT H MART
H Mart is an American supermarket chain operated by the Hanahreum Group, headquartered in Lyndhurst, New Jersey. The chain, which first opened in Queens, New York in 1982 with a corner grocery, has more than 40 locations throughout the United States, Canada, and most recently in England, specializing in Asian foods from many cultures.
ABOUT KG INVESTMENT MANAGEMENT
KG Investment Management, founded in 2001, offers clients the highest level of personalized service in the areas of property acquisition, development, value-added investment property management, and property disposition in the Pacific Northwest. Particular attention is placed on the economic, geographic, political and regulatory fundamentals of the Pacific Northwest, which gives KG Investment Management's clients a distinct edge in meeting their real estate investment objectives within the region.
ABOUT PRINCIPAL REAL ESTATE INVESTORS
Principal Real Estate Investors manages or sub-advises $44.8 billion in commercial real estate assets. The firm's real estate capabilities include both public and private equity and debt investment alternatives. Principal Real Estate Investors is the dedicated real estate group of Principal Global Investors, a diversified asset management organization and a member of the Principal Financial Group®.