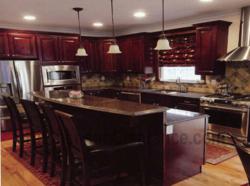 Miami, Florida (PRWEB) March 19, 2013
KitchensOnClearance.com is proof that the world of online commerce is taking over the marketplace as the premier way to conduct business. The site, which provides online remodeling and design services, is announcing a new program focusing on providing top-notch customer service, in a unique online format. The site has implemented a new policy stating that all design inquiries will be responded to, at no cost to the customer, within 24 to 48 hours. With each response, customers receive a completed design and layout, including a 3D image representing what the completed kitchen will look like.
The policy differs from similar online design sites, which generally contact customers with design inquiries after a week. In addition to taking longer to respond to inquiries, similar sites also charge customers $100 to complete design and layout plans.
"We're excited to be able to offer our customers even better service with this new program," said a spokesperson from Kitchens On Clearance. "We have a unique business model, in which customers can create the kitchen of their dreams alongside highly-trained design specialists, and then have that kitchen shipped to anywhere in the Continental U.S., Canada, and the islands. We wanted to build on that unique way of providing service, by speeding up the time in which we respond to design inquiries."
According to the Kitchens on Clearance spokesperson, the goal of the site is to provide customers with a dream kitchen in 7-10 days, whereas typically kitchen remodels can take weeks or even months. The goal of the new program is to transform dreams into reality even more quickly for customers.
"We're always looking for ways to create dream kitchens even more quickly," said the spokesperson for the company. "In this day in age customers don't have the time to wait for a kitchen remodel project that takes months. They're often displaced from their homes and experience a great deal of inconvenience, so we're constantly designing programs that are aimed at eliminating the inconvenience of a remodel."
Kitchens on Clearance, is a leading retailer of deeply discounted, high quality, solid wood cabinets. The site is known for its selection of beautiful cabinetry, granite and accessories that are offered at clearance and wholesale prices.
About Kitchens on Clearance
Kitchens on Clearance (kitchensonclearance.com) is a leading provider of kitchen remodeling supplies, including high-quality, solid wood cabinets, and designer counter tops, all at deeply discounted prices. In addition to discount products, the company also provides design services. To reach the company, call 1-800-481-1728.