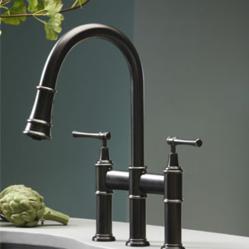 Having an online presence for 16 years, the one thing we have learned is to listen to our customers.
Pompano Beach, FL (PRWEB) March 20, 2013
Their initial launch is a new website dedicated solely to faucets and sinks, FaucetsByKeats.com. According to CEO Joe Deliso, "By focusing solely on these two product categories, our team can focus on providing shoppers the deepest offering and best online shopping experience when looking for a faucet or sink."
Keats & Castle is part of CabinetParts' expansion strategy into additional home categories. CabinetParts.com is an early E-Commerce site started in 1997 as a source for hard-to-find European cabinet hinges. It has since grown into one of the online largest niche players for cabinet hardware and accessories in the world.
"Having an online presence for 16 years, the one thing we have learned is to listen to our customers", said Pat Abbe, Cabinetparts.com president and founder, "and they have been asking for more options, especially for kitchens and bathrooms. The launch of Keats and Castle will enhance their experience for one-stop online shopping."
Faucets By Keats will offer traditional lines of faucets and sinks while constantly searching for hard-to-find and unique products not found elsewhere online or in big box stores. Elizabeth Warren, a 15-year veteran in kitchen and bath plumbing hardware distribution, recently took the position of Product Marketing Manager for Decorative Plumbing. According to Elizabeth, "Previously I was fortunate to be part of a very successful but very large plumbing business. What excites me about Keats and Castle is the opportunity to grow a new business unit from the ground up and be able to really focus on the unique and top-quality lines. I look forward to bringing some wonderful European and American made lines to the forefront."
Although the Internet does allow companies to be everything for everybody, Ms. Warren says that Keats & Castle is targeting its growth toward the more design- and quality-sensitive upper-end market niche, one that requires knowledgeable technical and customer service personnel, a niche already developed by CabinetParts in cabinet hardware items. Elizabeth explains, "We feel that the consumer can be overwhelmed with choices which can confuse and turn them away. We have no plans on being the biggest online catalog - only one of the best."
You can see and learn more by visiting Faucets by Keats