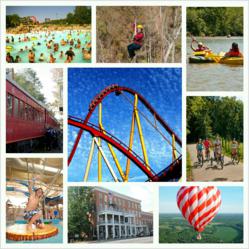 Mason, OH (PRWEB) March 18, 2013
Warren County Convention & Visitors Bureau (WCCVB) is giving away one customized Spring Break Package determined by fans of its Facebook page, Warren County—Ohio's Largest Playground.
WCCVB has compiled a list of 32 things to do in Warren County during spring break, and organized them into a single-elimination style bracket. To enter for a chance to win the giveaway package, fans vote in a series of match-ups on the WCCVB Facebook page. Each vote counts as one entry, and fans can vote once per match-up. The promotion will end after three rounds, and the four attractions left at the end of those three rounds will be combined into a Spring Break Getaway to Warren County.
"We're running this promotion because we want to thank our Facebook fans, and also to let people know that Warren County is a fantastic spring break destination," said Bridget Kochersperger, Communications Manager at WCCVB. "We're nearby, and we have world-class attractions and fun activities the whole family will enjoy. There is so much more to do in Warren County than just what's included in the list of 32, but we couldn't fit everything!"
Those interested in creating a custom spring break package or weekend getaway may visit OhiosLargestPlayground.com to see exclusive discounts for local attractions, accommodations and restaurants. Discounts for Great Wolf Lodge, The Beach, Ozone Zipline Adventures, Bella Balloons Hot Air Balloon Company, the Cincinnati Zoo and more are available online.
"Warren County has so much to offer, especially for families, and it's reachable via a short drive for most people in the Midwest," said Phillip S. Smith, President & CEO of WCCVB. "We're an affordable destination, and people of all ages can 'play more, splash more, and explore more' during their spring break, or weekend getaway, here in Warren County."
For more information on packages, accommodations and attractions, visit http://www.OhiosLargestPlayground.com.
About the Warren County Convention & Visitors Bureau:
Warren County is Ohio's Largest Playground! With easy access from Interstates 71 and 75, visitors to Warren County can enjoy more activities within a 30-mile radius than anywhere else in Ohio.
The Warren County Convention & Visitors Bureau is a professional destination marketing organization committed to economic growth by increasing overnight and year-round visitors.
Tourism is the leading industry in Warren County. The 7.8 million yearly visitors drive an economic impact of $993 million and 10,657 tourism-related jobs.
For additional information, visit http://www.ohioslargestplayground.com or call 800-433-1072.
Warren County is Ohio's Largest Playground!®