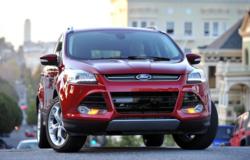 The crossover segment is rapidly growing and improving, offering an incredibly diverse range of vehicles that can suit any lifestyle and budget.
Torrance, CA (PRWEB) March 20, 2013
These days, customers are demanding fuel economy as well as utility from their new vehicles, and the result is a massive field of affordable SUVs – or crossovers – for them to choose from. With nearly every automaker rushing to offer the best quality crossover at the most attractive price, the experts at autoMedia.com have complied their list of thirteen models that everyone in the market should consult to point them in the right direction.
The new list, Top 13 Compact SUVs For 2013, highlights a baker's dozen of the highest quality crossovers on the market with a wide variety of styles, powertrains, amenities and price ranges in both front-wheel drive and all-wheel drive. If you're in the market for an affordable SUV, you can find exactly what you're looking for on this list.
"We're extremely excited about our new list of the best affordable sports utility vehicles for the 2013 model year," said Doug Hamlin, Founder and CEO of autoMedia Solutions. "The crossover segment is rapidly growing and improving, offering an incredibly diverse range of vehicles that can suit any lifestyle and budget. Our list includes the biggest names in the automotive industry, and can point any interested buyer in the right direction. Then they can use the autoMedia.com New Cars buying guide to research the truck they like, and even request a quote."
Once the butt of many jokes due to their uninspired performance and ungainly designs, the crossover segment has blossomed into a sales powerhouse as the vehicles have been refined into exciting and innovative vehicles. Today, affordable SUVs like the Ford Escape and Mazda CX-5 offer impressive performance and near-luxury interiors, and economy that exceeds 30 MPG. All of the cars on the new autoMedia.com list can be had in the $20,000-30,000 range – with so many options to choose from, Top 13 Compact SUVs For 2013 is an invaluable asset to sort them all out.
With a growing number of worthy crossovers to consider, autoMedia.com editors decided to include thirteen vehicles in the list to offer a wide range of vehicles that will appeal to any interested buyer. All-new models like the Buick Encore and Subaru Forester arrive with a bang, looking to take down original players like the Toyota RAV4 and Honda CR-V. For a plush ride, the GMC Terrain and Volkswagen Tiguan offer affordable luxury. The adventurous types will feel right at home with dynamic driving in the Nissan Juke and Mitsubishi Outlander Sport. You might even steal some looks away from flashier cars with attractive designs like the Kia Sportage.
Whether you're an eco-obsessed hypermiler or a thrill-seeker on a budget, there's something for everyone on the newest autoMedia.com list. The future is very bright in the world of affordable fuel-sippers, and we're here to help you find your way.
Crossovers are supposed to combine all the advantages of fuel-sipping compacts and mega-cargo utility vehicles into one clean package. This list proves that anyone can find the perfect combination out there, and autoMedia.com is the right place to start looking.
About autoMedia.com: The auto website was launched in September 2000 by a team of automotive editorial, design, and publishing professionals, with the goal to be the premier provider of quality automotive content on and for the Web. Today it features over 92,500 pages of original articles, including over 2,500 features researched and written by leading automotive experts, covering new and used car buying, new vehicle previews, road test reviews, car care maintenance, professional driving advice, and technology. Automotive enthusiasts and new car shoppers can read about the latest industry news, pricing, rebates and incentives, view photo galleries and research details on all makes and models. For more information, visit autoMedia.com.