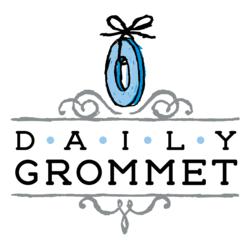 Daily Grommet recognizes Poochie-Bells for it's new, innovative way at solving a common problem for pets and pet owners.
Lexington, MA (PRWEB) March 19, 2013
Daily Grommet, an online shopping site and product launch platform for innovative and undiscovered products is working with animal lover to feature PoochieBells, dog training bells.
Daily Grommet recognizes Poochie-Bells for its new, innovative way at solving a common problem for pets and pet owners. Sometimes owners miss the cues when our four-legged friends need to relieve themselves. If that happens, owners are stuck with a mess to clean. To help avoid dog accidents in the home, Cheryl Pederson created Poochie-Bells, a potty-training system that teaches dogs to ring the bells when they need to be let out.
Poochie-Bells are straps that hang on a doorknob. When a dog wants to get owner's attention, the bells are right by the door, ready to be nudged with a nose or shaken with a paw. The premise of Poochie-Bells is based on the idea of conditioned reflexes, made famous by the renowned Russian physiologist Ivan Petrovich Pavlov. The goal is to teach a dog to associate the ringing bell sound with a signal to go out, and Poochie-Bells includes training instructions to help owners and their pooch get in the habit.
Cheryl wanted to give her dog a tool to communicate, even when the house was noisy and full of activity. Her Poochie-Bells are simple and well made, with two sets of bells on each strap so both small and large dogs can use it. The pet-safe bells come from a manufacturer in East Hampton, Connecticut, that's been in the bell business for more than 200 years. Cheryl also offers dog-friendly pewter hooks for mounting near the door, in case you'd rather not hang the bells on a high-traffic door.
PoochieBells are a great reminder of just how smart our pets can be. All they need is a tool to help them communicate with us.
About Daily Grommet
Daily Grommet is a highly curated online marketplace and launch platform for products of great utility, style or invention that haven't hit the big-time yet. Daily Grommet seeks out these unique products, carefully tests them, and produces a video review of each one telling the story behind its creation. Daily Grommet is rooted in the philosophy of Citizen Commerce whereby regular people form the commerce experience by suggesting products that reflect their values and interests. Citizen Commerce turns the typical top down retailer approach sideways, encourages global product innovation from small producers, and satisfies the consumer's need to know the stories behind and origins of favorite products. The company was also just named one of the hottest sites of 2013 by Internet Retailer. For more information, visit http://www.DailyGrommet.com.