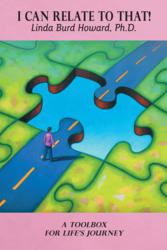 Boca Raton, Florida (PRWEB) March 20, 2013
Linda Burd Howard, Ph.D., the "I Can Relate To That!" psychologist, is launching her new book, "I Can Relate To That! A Toolbox For Life's Journey." Howard, a licensed psychologist with over twenty years of training and practice, candidly shares her personal experiences of anxiety, ADHD, depression, eating disorders, drugs, multiple divorces and family suicide, tying each experience to a particular life lesson and giving the reader a toolbox filled with specific tools, collected over a lifetime, that she used when facing life's most frequently reported challenges.
"I Can Relate to That!" covers the four areas where she sees people have the greatest difficulty: personal identity, responsibility, control and love. Dr. Howard's guidelines for living focus on discovering one's purpose, taking responsibility for everything in one's life, dealing constructively with control issues and finding, keeping and growing through love.
Dr. Howard has used each of her personal challenges to accomplish a transformation that shows in her everyday joy in living. She found ways to heal herself when traditional therapy was not helpful, and she readily shares these tactics and tools with others. For example, when discussing responsibility, one "tool" she uses is mittens because they remind the reader not to point a finger of blame.
In "I Can Relate to That!," Dr. Howard shares candid admissions of painful feelings and actions, something professional psychologists rarely do. Guided by an epiphany, Dr. Howard combines her professional training and personal disclosures with humor to create a reality-based map to a life journey people can easily and successfully follow by using tools from her toolbox.
For more information about Dr. Howard, visit her website at http://icanrelatetothat.com or her blog at http://drlindahoward.tumblr.com.
"I Can Relate to That! A Toolbox for Life's Journey"
By Linda Burd Howard, Ph.D.
ISBN: 978-1-4772-4113-4 (sc); 978-1-4772-4114-1 (hc); 978-1-4772-4112-7 (e)
Softcover, $16.95
Hardcover, $27.99
Ebook, $3.99
Approximately 178 pages
Available at http://www.amazon.com and http://www.barnesandnoble.com.