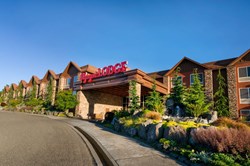 The largely undiscovered U.S. port town of Port Angeles on Washington's Strait of Juan de Fuca makes a great summer getaway from the usual crowds.
Port Angeles, WA (PRWEB) March 19, 2013
Port Angeles, Washington, on the state's Olympic Peninsula, offers a less-discovered experience of "the authentic Northwest" – with beaches, kayaking and a minutes-away gateway to the nearly one million acres of wilderness in Olympic National Park – according to the Pacific Northwest travel experts at the Olympic Lodge, the best local lodging option for easy access to both park and town.
Once a small logging and fishing community that has reinvented itself as a tourist destination, the largely undiscovered U.S. port town of Port Angeles on Washington's Strait of Juan de Fuca makes a great summer getaway from the usual crowds. Outdoor sculpture gardens, wineries, bike trails, a conservation-minded aquarium, international sand sculpture competition, museums, free concerts on the Pier, a ferry to Victoria, B.C., as well as great downtown restaurants and shops, provide activities for everyone from toddlers to empty nesters.
The Olympic Lodge in Port Angeles, #1 rated on TripAdvisor, is an ideal basecamp for enjoying coastal town activities or for visiting Olympic National Park. The hotel's staff can arrange bike or kayak rentals for active guests who'd like to bicycle the Waterfront Trail, part of the larger 150-mile Olympic Discovery Trail, or test their paddling skills in the Strait or one of the nearby lakes. Tours of one or more of the area wineries, tickets to music events and more are also available through the Olympic Lodge staff.
Nearby Olympic National Park boasts 95 percent of its 900,000-plus acres as designated wilderness – with ecosystems ranging from 70 miles of the U.S.'s wildest beaches to some of the densest temperate rain forests in the world to the glacier-topped mountaineering challenge of Mount Olympus – the park's highlights are accessible (and family-friendly). Don't-miss sights for day-trippers include Hoh Rain Forest, Rialto Beach, Crescent Lake, Sol Duc Hot Springs, and Hurricane Ridge for over-the-top views, while hardier souls can kayak whitewater, scale glaciers and explore backcountry. Olympic Lodge staff is happy to recommend routes, perfect picnic lunches, and more to its park-bound guests.
Company Information: The closest gateway lodging to Olympic National Park and equally accessible to charming downtown Port Angeles, the Olympic Lodge has a mission of providing outstanding customer service. Featuring new fluffy duvets, widescreen televisions, and a year-round outdoor heated pool and spa with views of the Olympic Mountains, Port Angeles's #1 TripAdvisor-rated hotel is adjacent to a golf course open to the public and is known for complimentary offerings including an exercise room, Wi-Fi, and daily guest copies of "USA Today." Summer rates start from $189.99/night. For information, visit http://www.olympiclodge.com or call 800.600.2993.
Media Contacts: Holly Dempsey, Olympic Lodge General Manager, hdempsey(at)westerninns(dot)net, 360.452.2993; Darla Worden, WordenGroup Strategic Public Relations, darla(at)wordenpr(dot)com, 307.734.5335