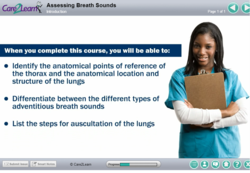 "Care2Learn's Rapid Review Series gives your DON the tools to determine the nurses' skill sets while instilling confidence in the nurses that they can provide higher acuity care." - Cheryl Swann, VP of Clinical Services at Care2Learn
Tampa, FL (PRWEB) March 19, 2013
Care2Learn, the leading provider of online education, compliance training and record-keeping for the senior care industry, announced that it is launching its new Rapid Review Series (http://bit.ly/RapidC2L) of online courses to demonstrate assessment and procedural techniques. The Rapid Review Series is a comprehensive set of more than 20 online training courses that a DON or nurse supervisor can use to ensure that their nurses are proficient in the assessment and procedural techniques needed to prevent rehospitalization. The series is appropriate for any acute or post-acute care organization – skilled nursing, assisted living, independent living, and home health & hospice.
"It's not enough to train your nurses on the diseases that are most commonly associated with rehospitalization; they have to be able to perform the proper assessment to quickly identify changes in condition eliminating the need for a return to the hospital," noted Cheryl Swann, RN-BC, BSN, WCC, LNHA, VP of Clinical Services at Care2Learn. "Care2Learn's Rapid Review Series gives your DON the tools to determine the nurses' skill sets while instilling confidence in the nurses that they can provide higher acuity care."
Care2Learn's Rapid Review Series (http://bit.ly/RapidC2L) complements the Care2Learn Rehospitalization Series (http://bit.ly/C2LRehosp) to ensure that nurses can in fact assess and implement procedures that would be necessary to prevent rehospitalization. Each course uses multimedia audio, video and are mobile accessible through the Care2Learn iPad® and Android Apps, and has an accompanying competency for the supervisor to use to verify that the nurse can perform the procedure correctly.
A sample of course titles includes:

Rapid Review: Assessing Breath Sounds
Rapid Review: Assessing Heart Sounds
Rapid Review: Inserting a Peripheral IV
Rapid Review: Obtaining Blood from a Central Venous Catheter
Rapid Review: Implanted Ports
"Ultimately, a physician needs to know that when he's telling the nurse what procedure to implement, he has to feel confident that the nurse can do it," noted Jennifer Moore, RN, Care2Learn's Clinical Content Developer. "If he's not confident, he's going to recommend a return to the hospital and then there goes everything your organization is working toward to reduce rehospitalization."
About Care2Learn
Care2Learn delivers superior online education and training for the senior care industry and holds more than 70 state and national accreditations. Through its award-winning healthcare Learning and Performance Engine Care2Learn offers individual courses as well as large-scale corporate training solutions for healthcare organizations featuring customizable and easily accessible online universities with a full range of tracking and reporting features. With an online library exceeding 500 courses authored by more than 150 subject matter experts, Care2Learn serves more than 300,000 healthcare professionals in all 50 states and Canada. Founded in 2000 and acquired in 2007 by eLearning provider VectorLearning, Care2Learn is headquartered in Tampa, Florida and is the recipient of numerous community honors and industry rewards. In 2012 Care2Learn merged with healthcare eLearning and record-keeping provider Upstairs Solutions to provide even more products and services for its online users. For further information, visit http://www.Care2Learn.com or http://www.Care2LearnEnterprise.com.