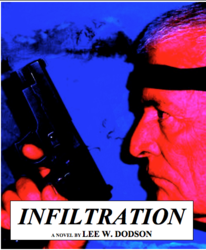 Dodson's affection for the United States Marine Corps goes back fifty years when young men risked their lives to help him out of a difficult situation, and he feels that if he can return help, however small, he will.
Los Angeles, California (PRWEB) March 19, 2013
After a stunning Underground Homeland Terrorism Survey success that produced over 14,000,000 responses, Lee Dodson, author of the novel Infiltration, has taken aim at helping the already popular SEMPER FI FUND that provides immediate financial support for injured and critically ill members of the U.S. Armed Forces and their families."
"The admittedly unscientific survey was an unqualified success. It revealed that there are a lot of people out there in Internet Land who are thinking the same ideas I was, that the War on Terror is not over, that the risk is still palpable, that our first line of defense is still vital," the writer said. "We send courageous men and women into harm's way, and we need to be aware of it, not just the serving, but those we have sent…and their families. They are the best we have, and that's why the SEMPER FI FUND is not just important, it's crucial. Donations say that we don't forget."
Dodson's affection for the United States Marine Corps goes back fifty years when young men risked their lives to help him out of a difficult situation, and he feels that if he can return help, however small, he will.
Under agreement with the Fund, the author is directing a dollar per the book, Infiltration, into the fund. A particular sales website is set up whereby a 20% discount with a coupon (insert WM24N for discount) buys the edition, and the agreed proceeds are paid quarterly. Special runs through April 30, 2013. TO BENEFIT THE SEMPER FI FUND
"This discount and coupon are available through my smashwords.com (an e-book publishing company) account only because they've made it easier. On this site, Infiltration can be downloaded in any format, and of course, it's available anywhere in the world, and it can be given as a gift, as well," Dodson said. "Since it's fast and fun, very popular with men and women who want an entertaining and exciting read. I'm running the special through the end of April, and if it's effective, I'll run it for the life of the book."
Infiltration, a book which describes a major and plausible terrorist attack on the Southern United States, has received over twenty five star reviews on various website outlets, and this is what readers are saying:
The author grabs you and never lets you go till the end of the book. If you are looking for a book that makes you lose sleep to read this is it.
"Enjoyed this book. Scary idea. Living in Arizona brings this too close for comfort! Hard to put this book down."
"This book is exceptional. I have never been drawn into a book as fast as this one drew me in. It's exciting.....really exciting. The characters are so well defined that I felt like I knew them almost immediately."
"This book held my attention from the beginning…This man has hit every avenue with what is going on in our world today do you feel safe? Do you understand that this could happen in real life? Read the book and get ready."
"This is a very exciting book from start to finish. It is well written without the stumbling found in many Kindle bargains. The plot is compelling, but implausible - or is it?"
"My concern is that while there's a ton of lip service about our debt to our service members, it may have slipped from the prominence it deserves. News services have neglected coverage of what our sons and daughters sacrifice in our interest. Cuts in other services makes public support crucial. We need these people, and we need to let them know that they will never be far from our gratitude," Dodson stated. "Semper Fi means always faithful, we will be faithful to them as well."
The writer stirred. "If one is not a reader, one can always donate directly to the SEMPER FI FUND directly by going to the website and giving there."
Support us through CFC! Find us under
"Injured Marine Semper Fi Fund"
CFC#11459
Dodson appears on Gary Sheler's Morning Show (KAAA/KZZZ) in Arizona as an occasional guest, and expects more appearances to be announced on Conservative talk-radio shows in the next few weeks (TBA). "I'll take anyone that asks," is Dodson's reply.
"We went for an underground best seller, doing press releases, the survey, using Facebook, Twitter, and getting mentions from very kind bloggers like Glenn Reynolds at instatapundit.com. It looks like it is working because readers are writing me asking for a sequel. It's exciting," Dodson said. "And I'm particularly excited to be able to do something for SEMPER FI FUND."
Dodson's book, Infiltration, with the special and discount only, is now available at smashwords.com in all formats with a sequel out in June 2013. He is also author of This Never Happened, a story based on the disappearance of the Anasazi race, and his new book, Daylight Raid, is set for release in late April 2013.
Price: $6.93 retail
$5.54 with 20% coupon WM24N
$1.00/ copy to Semper Fi Fund
323-243-0404
vndk8r(at)gmail(dot)com
http://www.skoshitiger.com/
Twitter: skshtgr11