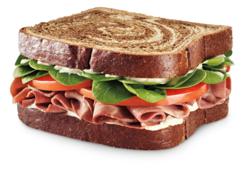 New York, NY (PRWEB) March 28, 2013
According to the best-selling book, Fast Food Nation, about one-quarter of the U.S. population eats fast food every day and with March being National Nutrition Month, people have even more of a reason to start making healthier food choices.
7-Eleven has expanded its fresh-foods line to offer guests a wider variety of "better-for-you" salads, snacks and mini-versions of customer favorites including wraps, salads and snacks, as well as two new sandwiches - the Steakhouse Roast Beef and Bistro Deluxe. These two premium sandwiches include prime deli meats, fresh produce, specially blended spreads and select breads.
7-Eleven's new fresh-foods lineup includes:

Steakhouse Roast Beef Sandwich - sliced roast beef with blue cheese crumble, mayonnaise, baby spinach and tomatoes on marble rye bread
Bistro Deluxe Sandwich - black forest ham, Genoa salami and Swiss cheese with lettuce and Dijon mustard on Asiago bread
7-Smart Turkey with Tomato on Wheat – sliced oven-roasted turkey, crisp lettuce and tomatoes on fresh whole wheat bread for under 300 calories
Smoked Turkey & Jack Cheese on Wheat with Southwest Mayo – sliced smoked turkey layered over savory Monterey jack cheese and lettuce, finished off with a zesty signature southwest mayo on fresh, whole-wheat bread
Bistro Snack Protein Pack – a fresh selection of snack items to power through the day including soft mini pitas, sharp cheddar-cheese cubes, tasty red grapes, crunchy celery, crisp baby carrots and creamy hummus
Carrot and Celery packs with Ranch Dip or Blue Cheese Dip – crunchy carrots and crisp celery sticks ready to dip in 7-Eleven's savory ranch or blue cheese dips
Fruit Cups – delectable combinations of freshly sliced sweet strawberries, tangy pineapple, juicy grapes, tasty mango and sweet watermelon
Downloadable b-roll and photos are available to the media at: http://magicbulletmedia.com/MNR/711FreshToGo/
About 7-Eleven, Inc.
7-Eleven, Inc. is the premier name and largest chain in the convenience retailing industry. Based in Dallas, Texas, 7-Eleven operates, franchises or licenses more than 10,000 7-Eleven® stores in North America. Globally, 7-Eleven has some 50,000 stores in 16 countries. During 2011, 7-Eleven stores generated total worldwide sales close to $76.6 billion. 7-Eleven has been honored by a number of companies and organizations recently. Accolades include: #2 on Forbes magazine's 2011 list of Top Franchises for the Money; #3 spot on Entrepreneur magazine's Franchise 500 list for 2012, #3 in Forbes magazine's Top 20 Franchises to Start, and #2 in Franchise Times Top 200 Franchise Companies. 7-Eleven was named No. 3 on Fast Company magazine's 2013 list of the "World's Top 10 Most Innovative Companies in Retail." Hispanic Magazine named 7-Eleven among its Hispanic Corporate Top 100 Companies that provide the most opportunities to Hispanics. 7-Eleven received the 2010 Retailer of the Year honor from PL Buyer because of the company's private-label brand initiative. 7-Eleven is franchising its stores in the U.S. and expanding through organic growth, acquisitions and its Business Conversion Program. Find out more online at http://www.7-Eleven.com.