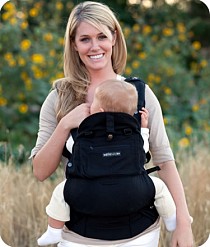 (PRWEB) March 19, 2013
Bliss Baby and Maternity is proud to be carrying the líllébaby™ EveryWear™ baby carrier. This is a baby carrier that can be used in four Carrying positions that include front inward facing, front outward facing, hip and back carrier.
This carrier comes with an optional traditional sling carry as well. It seems too good to be true. But the Lille baby Everywear Carrier can do all of these carry positions. With this carrier one will never need to buy all the different types of carriers. Many parents have numerous carriers because of wanting one for various reason such as one for the comfort of a sling, the ease of a soft structured, the reverse carry or outward carry of a wrap, the Hip carry of a pouch and the structured carrier for back carrying. With the Lille Baby Everywear Carrier, that can all be had at a fraction of the price. Plus, no need to worry about storage issues with having many other kinds of carriers.
Features include an Ergonomic Design which allows the child's legs to be at a 90% angle to support an optimal sitting position for hip, pelvis and spine growth. The carrier disperses the child's weight between their hips and thighs to minimize spine compression. The Gentle Motion Suspension System™ absorbs child's weight and movement and balances the baby's weight to parent's hips and shoulders alleviating physical stress for the parent that is carrying the child.
This carrier is comfortable for both parent and child with a dual-density foam-padded waist belt is pre-curved to hug the hips and provide greater comfort and load-carrying control. Padding continues under buckle to shield hips from the impact of the buckle. The shoulder pads are inspired by High Performance back packs for maximum comfort and air flow. There are removable and adjustable shoulder pads to fit a wide range of body types and a high back to support baby's head.
The Lille baby Everywear Carrier has a convenient and adjustable chest strap with a double response suspension system makes the EveryWear easy to get on and off. There are two front pockets for keys or cell phone plus a zippered pocket the will fit diapers and wipe holders. There is a 100% Jersey cotton hood to cover baby's head and a soft lining and a 100% lightweight microfiber exterior is wind and water repellent. The edges are enforced for strength and durability.
This carrier is easy and convenient. Everyone who is into baby wearing needs to check out the Lille Baby Everywear Carrier at http://www.blissbabyandmaternity.com. Please visit for all your baby carrying needs!