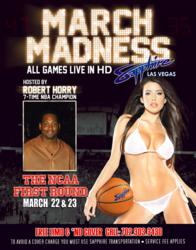 Sapphire Ultimate March Madness Party is an event you must experience.
Las Vegas, NV (PRWEB) March 18, 2013
Are you ready for the Ultimate March Madness Party? How about some beautiful women as well? If that's the case, you are in luck because Sapphire, The World's Largest Gentlemen's Club, offers both, continuing their Ultimate March Madness Party tradition starting with the Second Round Playoffs, March 21 through 24, airing each game live all the way through to the National Championship game and "blow out" party on April 8th.
This year's schedule is as follows:
First Four March 19-20, 2013
Second/Third Rounds March 21-24, 2013
Regionals March 28-31, 2013
Final Four April 6, 2013
National Championship April 8, 2013
Retired American basketball player and current sports commentator on Time Warner Cable SportsNet, Robert Horry hosts the first weekend of March Madness at Sapphire March 22nd and 23rd from 10pm to midnight each day. Horry played 16 seasons in the National Basketball Association (NBA), winning seven championships. He is one of only two players to have won NBA championships with three different teams: two with the Houston Rockets, three with the Los Angeles Lakers and two with the San Antonio Spurs. Horry earned the nickname Big Shot Rob because of his clutch shooting in important games, and is widely considered to be one of the greatest clutch performers in the history of the NBA.
Sapphire will be showing each game live so you can watch your favorite teams, play by play, on one of three mammoth 12-foot HD screens featuring live digital game sound or retreat to one of 10 private skyboxes overlooking the main floor for a more "intimate" view of the court action with your favorite bottle and entertainer.
On Monday night, April 8th Sapphire will host the Sapphire Ultimate March Madness Party starting at 4pm. Sapphire will be airing the National Championship game and providing a Las Vegas-style party atmosphere that you wouldn't want to miss complete with food, drink specials and beautiful entertainers. This year's event is sponsored by Absolut Vodka, Jameson Whiskey, Malibu Rum and Heineken.
"Sapphire Ultimate March Madness Party is an event you must experience," says Marketing Director Shai Cohen. "Sapphire March Madness Party has always been a winning tradition with locals and tourists alike. We had over 800 in attendance last year for the National Championship game alone and this year is shaping up to be even bigger," Cohen adds.
Fox Sports Radio 1460 AM will broadcast exciting, live, pregame coverage of the party festivities as they unfold from the main floor Sapphire Gentlemen's Club from 4pm to 6pm and will be handing out lots of cool giveaways.
Make a "Fast Break" to the club by 5pm so that you don't miss the famous Sapphire Stripper Shootout. Twenty of Las Vegas' hottest entertainers shoot hoops to see who will take home the title and $1000's in cash and prizes. No dunking allowed…but topless encouraged. Check out those brackets.
And if that isn't enough…"The fans will enjoy drink specials and a complimentary buffet provided by Sapphire Grill and Masterpiece Cuisine so be sure to bring your appetite and indulge in some of the best local fare Las Vegas has to offer starting at 4pm, drink specials, $1 halftime dollar dances from no less than 200 Sapphire "cheerleaders" and endless raffles and prizes (iPods, digital cameras, iPads and our grand prize: a big screen TV). Now that's madness," adds David Wachs, Director of Bar and Cocktail Operations at Sapphire.
Sapphire, located at 3025 S. Industrial Road in Las Vegas, is the World's Largest Gentlemen's Club, offering more than 70,000 square feet of topless entertainment. You won't want to miss out so get off the bench and get to the club early or reserve a table today. Open 24/7 to patrons 21 and over, Sapphire serves the finest variety of cocktails, wines, champagne and cigars to enhance your game day experience.
Sapphire also provides complimentary transportation service to the club from the Strip hotels. For table reservations call 702.869.0003 or book online at http://www.SapphireLasVegas.com. And for special offers and updates follow Sapphire LV on twitter @sapphirelv.