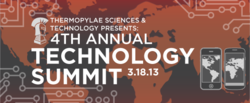 Arlington, VA (PRWEB) March 19, 2013
Thermopylae Sciences & Technology (TST) is hosting today its fourth annual Technology Summit to show off the next generation of their award-winning geospatial products and showcase the cutting-edge innovations of Google, Amazon and Recorded Future.
The event will feature a leadership panel that will debate the future of geospatial, mobile, cloud and emerging technologies and discuss how the defense and intelligence communities can leverage commercial technologies.
The panel will be moderated by Brad Peniston, editor of Armed Forces Journal, and will include AJ Clark, President, Thermopylae Sciences & Technology; Michele Weslander-Quaid, CTO, Google Federal; Maj. General John M. Custer (ret.), Director of Federal Strategic Missions and Programs, EMC Corporation; and Matt Kodama, CPO, Recorded Future.
Presentations about Google Geospatial will highlight Google's geospatial offerings. Amazon will demonstrate Redshift, a petabyte-scale data warehousing service. Recorded Future will show how predictive technologies are even more accurate.
Attendees will be the first to view the latest evolutions of TST's award-winning technologies: Ubiquity 3.0, iSpatial 3.0 and iHarvest 5.0. These updated versions have superior user-interfaces and enhanced capabilities to give customers a more powerful, customized experience. TST is also offering attendees a chance to experience its Liquid Galaxy display, which gives users a complete 360-degree Google Earth geospatial simulation experience.
Thermopylae uses geospatial information and mobile technology to provide both federal agencies and commercial customers with custom applications and software programs. The award-winning WINDSHEAR program – named by C4ISR as one of their Top 25 technology innovations of 2012 – makes it possible for soldiers to easily scan faces at checkpoints, send critical alert messages and pictures of suspicious activity, and file reports on specific locations, all in real-time with just a few clicks.
Google Enterprise recently named Thermopylae Sciences & Technology their 2012 Innovation Partner of the Year in Maps for Business.
About Thermopylae
Thermopylae Sciences & Technology is a leading Google Enterprise Partner, offering 100% web-enabled Geo, Mobile, and Intel solutions for Government and Business. We reward creativity and innovation, and strive to bring emerging technologies to our customers in ways that can enhance organizational performance and further their missions. We combine industry experts in information technology and pair them with team members that are subject-matter experts on our customers' key problem sets. The result: cutting-edge solutions that are tailored directly to our customers' needs. Thermopylae is a Service-Disabled Veteran-Owned Small Business (SDVOSB).