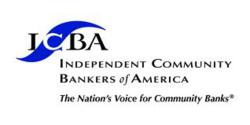 Los Angeles,CA Toronto,ON (PRWEB) March 19, 2013
ICBA (Independent Community Bankers of America) in partnership with Vubiz Elearning, is offering 50 online compliance courses complimentary to its members until September 30th. ICBA made the announcement at their 2013 ICBA National Convention and Tech World Conference in Las Vegas last week. The ICBA convention attracted over 3,300 community bankers and industry leaders. As ICBA's online training partner, Vubiz Elearning was invited to present at ICBA's Education Booth at the Convention. The Vubiz and ICBA elearning library provides bank staff with in-depth training on current topics bank employees need to know. The library contains bank specific compliance courses covering every major law, rule and regulation. Bestselling topics include The Bank Secrecy Act, Common Frauds, Regulation CC, Robbery Response, The Gramm-Leach Bliley Act, Fair Lending Practices, Ethics for Bankers, Compliance for Tellers, Red Flags Identity Theft and IT Security Primer.
ICBA will offer 50 Compliance courses to its members complimentary until September 30th and then for $99.00/year afterwards. All courses will be available to all of their member banks staff for the single $99.00 annual fee.
Reaction to this announcement was extremely positive as bankers saw an easy and inexpensive way for them to address their growing need to train staff on the large number of required compliance topics. Regulatory compliance is a chief concern for banks as almost daily, a new regulatory statute is being written or coming into law. Banks that do business not only in the U.S., but globally as well, must be aware of an every-changing regulatory landscape and ensure they are compliant. The government expects all levels of bank employees to study, understand, and implement a wide range of banking regulations.Online training is quickly becoming the method of choice for bankers to train staff as opposed to the traditional in class training that removes staff from their banks and costs heavily in travel and other related expenses.
The Independent Community Bankers of America®, the nation's voice for nearly 7,000 community banks of all sizes and charter types, is dedicated exclusively to representing the interests of the community banking industry and its membership through effective advocacy, best-in-class education and high-quality products and services. ICBA is committed to upholding the highest professional standards in community banking and providing programs tailored specifically for community bankers. Through ICBA educational courses, certification options and continuing education programs, community bankers are better able to serve their customers and stay profitable. ICBA's mission is to create and promote an environment where community banks flourish.