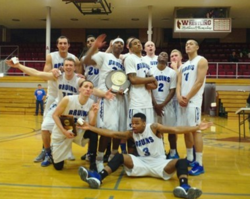 Salt Lake City, UT (PRWEB) March 19, 2013
The SLCC Men's Basketball team has advanced to the NJCAA Division I Men's Basketball Championships. The Bruins—Utah's only collegiate men's team still playing for a national championship—will play Eastern Oklahoma State College in the tournament's first round on Tuesday, Mar. 19 at Noon (CST).
A win in the opening round contest would give Scenic West Athletic Conference Coach-of-the-Year Todd Phillips and the Bruins a rematch with No. 3 seed Central Arizona College on Wednesday, Mar. 20 at 8:00 p.m. (CST). SLCC was defeated by CAC in the District I Championship on Saturday, Mar. 9 in Coolidge, AZ, but received an at-large berth to the NJCAA Championships.
The Bruins advance to Nationals for the first time since the program's national championship season in 2009. That year, SLCC made history by overcoming a record 16-point second-half deficit to beat Midland College 67-60 in the title game.
In search of its second national title, SLCC will need to win five games in five days.
All games in the NJCAA Championships can be seen live via the NJCAATV web stream at: http://www.ihigh.com/njcaatv. Streaming links will also be available on the SLCC Athletics home page at: http://slccbruins.com/
About the College: Salt Lake Community College is an accredited, student-focused, urban college meeting the diverse needs of the Salt Lake community. Home to more than 62,000 students each year, the College is the largest supplier of workforce development programs in the State of Utah. The College is the sole provider of applied technology courses in the Salt Lake area, with 13 sites, an eCampus, and nearly 1,000 continuing education sites located throughout the Salt Lake valley. Personal attention from an excellent faculty is paramount at the College, which maintains a student-to-teacher ratio of less than 20 to 1.
# # #