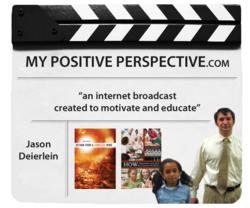 Lots of improvements, connections, and partnerships have been made in season two of My Positive Perspective.
Charleston, SC (PRWEB) March 19, 2013
On March 18, 2013, My Positive Perspective featured an episode that announced the upcoming speech host Jason Deierlein will be speaking to students at Burke High School. The episode was guest hosted by musician Ben Fagan. About hosting the episode, Fagan said, "This is my first appearance on season two of My Positive Perspective and Jason Deierlein has made lots of improvements, and made many connections and partnerships."
One such improvement for the company in Season Two involves a recommitment to helping the education of our youth. Deierlein authored a book titled; How Education can end the Cultural Problem. When asked about the methodology in presenting the information to the students, Deierlein said, "The series of speeches will be broken down into four separate speeches. Initially, I will talk about my swimming career and the challenges I faced with that event, and mention how I was able to overcome the obstacles associated with that. Secondly, I will discuss the car accident and how that posed different obstacles and how I overcame those." Deierlein continues, "Then I will talk about creating the company My Positive Perspective and how that posed a new set of challenges that I had to overcome. Finally, for the concluding speech I will pose the challenge to the students, and relating their struggles to mine." Deierlein concludes, "Hopefully they will take my examples of overcoming adversity and apply them to their own lives."
My Positive Perspective is a media outlet believing that improvement in our community will be best achieved by focusing on the good things happening in our world today. Surviving a near fatal car accident when I was a teenager forced me to have a mentality of always concentrating on the brighter sides of things. This was true, and in my book, Return From a Comatose Mind, this belief was put to the test. Appreciation for life was the biggest thing I took away from my brush with death, and it is because of that that I have such a huge desire to be helpful to many. My Positive Perspective is my way of dealing with problems that may be affecting me.