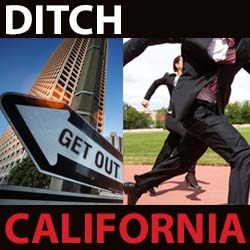 We tell California companies who are searching for commercial real estate that they should take a good look at relocating to Arizona," he says. "We believe they'll like what they see
Tucson, Arizona (PRWEB) March 21, 2013
California business owners weary of the high cost of operating there would do well to consider that neighbor to the east, Arizona, says a Tucson commercial real estate broker.
"Information compiled for the Arizona Commerce Authority confirms that it costs less to run a business in major cities of Arizona than in California's big metropolitan areas," Michael Coretz says in his recent online article, "Companies Should Ditch California for Arizona."
Michael Coretz, owner of Commercial Real Estate Group of Tucson, details the ways California businesses can find financial relief in Arizona.
Comparing Operating Costs in Arizona and California
Both the Phoenix-Mesa-Glendale and the Tucson metropolitan areas offer far better operating cost levels compared to the areas of Los Angeles-Long Beach-Glendale, San Diego-Carlsbad-San Marcus, San Francisco-San Mateo-Redwood City and San Jose-Sunnyvale-Santa Clara.
Arizona's cost of living, median wages and average annual operating cost per square foot all come in well below California, according to the Arizona Commerce Authority, the state's largest economic development organization.
And those numbers don't include recent state activities that continue to create more favorable state taxing conditions, from a reduction of sales tax to lower commercial property taxes.
Arizona Ranks High on Pro-Business Scale
"Coupled with Arizona's pro-business ranking of 17 from the Pollina Corporate Top 10 Pro-Business States for 2012–California comes in last–I'd say we have a product that corporate site selectors for commercial real estate will find attractive," says Coretz.
The annual Pollina report, which compares states based on 32 conditions that corporate site selectors examine when deciding where to locate or expand a business.
According to the report, Arizona offers far better operating conditions than California in corporate and individual taxes, workers compensation and comprehensive tax for new firms.
Recognizing that businesses in California want to relocate because of high costs, Coretz is working with organizations like the Arizona Commerce Authority to educate site selectors.
"We tell California companies who are searching for commercial real estate that they should take a good look at relocating to Arizona," he says. "We believe they'll like what they see."
For information on how Arizona compares to California in business operating costs, contact Michael Coretz, 520-299-3400, michael(at)cretucson(dot)com.
##
Commercial Real Estate Group of Tucson specializes in representing tenants and corporate users across the United States, Latin America, Europe and Asia as a member of ITRA.
For more information call 520-299-3400.