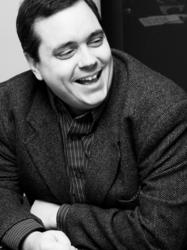 Synacor was nominated for Best TV Everywhere Technology for its ability to improve TV Everywhere by offering easier ways for subscribers to authenticate through Social Login.
Buffalo, NY (PRWEB) March 20, 2013
Synacor, Inc. (NASDAQ: SYNC), leading provider of next-gen startpages, TV Everywhere solutions and cloud-based Identity Management (IDM) services across multiple devices for cable, satellite, telecom and consumer electronics companies, today announced that it is a finalist for two of CableFAX's Best of the Web Awards, including Best TV Everywhere Portal Site and Best TV Everywhere Technology. In addition, Synacor's Ross Winston, Chief Architect, has been named to CableFAX's Digital Hot List.
Synacor's ability to launch a single hybrid portal for Charter Communications that offers both TVE and OTT services to subscribers led to its Best TV Everywhere Portal Site nomination. Synacor was nominated for Best TV Everywhere Technology for its ability to improve TV Everywhere by offering easier ways for subscribers to authenticate through Social Login. Social Login, part of Synacor's Cloud ID platform, gives customers the flexibility to offer subscribers access to online pay-TV content with their favorite social accounts like Facebook, Twitter or Google, while simultaneously authorizing with their pay-TV provider or billing account.
A technology visionary, Ross Winston was one of the earliest members of the Synacor team involved with the creation of the Synacor platform. As the company's chief architect, Winston's focus is to continually innovate on the Web interactions that make Synacor's platform appealing to developers, valuable to content providers and ultimately an excellent experience for consumers.
Other CableFAX Digital Hot List members include, Otto Berkes, HBO; Piers Lingle and Matt Strauss, Comcast Cable; Mike Biard, Fox Networks; Eric Bruno, Verizon FiOS; Marissa Mayer, Yahoo!; Jamie Byrne, YouTube; Jeremy Legg, Tricia Melton and Brooks Tobey, Turner Broadcasting System; Adam Naide, Cox Communications; Andy Forssell, Hulu; David Preisman and Ken Todd, Showtime; Ryan Spoon, ESPN; Neil Hunt, Netflix; and Matt Zelesko, Time Warner Cable.
CableFAX's Digital Hot List recognizes executives shepherding innovation and progress in social media, digital distribution, app development, web content, technology strategy, TV Everywhere/authentication and other cutting-edge multiplatform projects.
Sam Rosen of ABI Research recently highlighted Synacor's hybrid pay-TV and over-the-top TVE offering as a way for consumers to search for content from their pay-TV operator and key OTT providers from the same location. Synacor, having provided TV Everywhere services to several cable operators for March Madness, the 2010 Vancouver Winter Olympics and the 2012 London Summer Olympics, has completed integrations with numerous pay-TV providers, as well as many pay-TV channels and more than 30 free. (Integrations include HBO GO, MAX GO, NBCUniversal, CNN, TBS, TNT, truTV, MTV, Hallmark, Cartoon Network, Adult Swim, Epix, Fox, Speed2, BigTen, Pac-12 and a number of other TV channels.)
For more information on Synacor and its TV Everywhere services please visit synacor.com or email tellmemore@synacor.com. To see Michael Bishara talk more about TV Everywhere, please click here.
About Synacor
Synacor's white-label platform enables cable, satellite, telecom and consumer electronics companies to deliver TV Everywhere, digital entertainment, cloud-based services and apps to their end-consumers across multiple devices, strengthening those relationships while monetizing the engagement. Synacor (NASDAQ: SYNC), is headquartered in Buffalo, NY. For more information, visit synacor.com. Integrate. Authenticate. Engage.
Forward-Looking Statements
This release includes certain forward-looking statements within the meaning of the Private Securities Litigation Reform Act of 1995. These statements are based on the current expectations or beliefs of management of Synacor, and are subject to uncertainty and changes in circumstances. Actual results may vary materially from those expressed or implied by the statements herein due to changes in economic, business, competitive, technological and/or regulatory factors, and other factors affecting the operation of the respective businesses of Synacor. More detailed information about these factors may be found in filings by Synacor, as applicable, with the Securities and Exchange Commission, including their respective Quarterly Report on Form 10-Q. Synacor is under no obligation to, and expressly disclaims any such obligation to, update or alter their respective forward-looking statements, whether as a result of new information, future events, or otherwise.