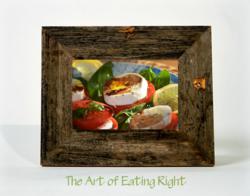 It forced me to look at how all this 'celebrating' survival was getting in the way of my actual recovery from cancer
(PRWEB) March 21, 2013
For the first half of National Colorectal Cancer Awareness Month (NCCAM), Ali rallied several guest experts and survivors to share their insights and advice, promoting colorectal cancer prevention and inspiring those at risk, to get screened.
Now, she's turning to the more palatable topic of food and involving readers in her personal challenge to temper her "eat, drink and be merry" outlook by including healthier doses in her daily meals while maintaining her zest for flavor and fun.
The challenge? To come up with gluten free, non processed, yet tasty recipes based on at least 2 of the 12 digestive health promoting foods listed The C Card and Me website.
Posting the recipe and a pic of the dish on The C Card and Me Facebook page is an automatic entry. The Prize? "The winner receives an ultra-premium, glass cutting board, bearing the image of their winning recipe and photographed by yours truly," Ali said.
For the list, Ali reached out to Frank Jasper, a former actor, gone holistic health expert, who is best known for his role as the arch-rival wrestler, Brian Shute, in the 80′s film, Vision Quest, a coming of age tale that has gained a notable cult following over the years among wrestlers, wrestling enthusiasts and die hard Madonna fans.
Ali knew him back then as the guy in her class at Eastern Washington University. In her book, Ali shares how they re-connected last year and the irony of finding him right at the time she was beginning her recovery from a year and a half of cancer treatments. "What are the odds that after 20-something years, I suddenly think of this guy, only to find he is now a health expert, nearby and specializes in detoxing from the effects of chemo and radiation?"
With her digestive tract back in working order, she reached out again to Frank, inviting him to be a guest expert in this month's NCCAM series. From that, the conversation of eating healthier for prevention and recovery came into play. "It forced me to look at how all this 'celebrating' survival was getting in the way of my actual recovery from cancer. One thing led to another and before I knew it I had a contest going."
The "Art' stems from Ali's passion for photography and desire to branch out from covering sports, to capturing the art in healthy foods. "Who knows, we may end up with a cool, coffee table book from it". Ali mused.
Discover more about Frank Jasper at: Osani Holistic Healthcare Center in Pacific Palisades, Ca.
About Ali Gilmore: Ali is a freelance photographer, singer/songwriter, geek and author of The C Card and Me – How I beat stage IV cancer (to a pulp). Originally from Seattle, Washington, she now resides in the coastal town of Oceanside, California. Find out more about Ali at: http://www.aligilmore.com
###