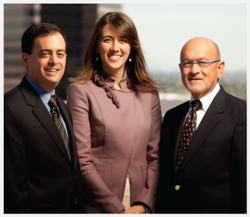 The Frutkin Law Firm is proud to have three lawyers recognized as 2013 "Top Lawyers" by Arizona Business Magazine.
Phoenix, Arizona (PRWEB) March 19, 2013
Three attorneys from The Frutkin Law Firm have been named among the top lawyers in the state for 2013 by Arizona Business Magazine.
Principal Jonathan Frutkin and Associate Attorney Stephanie Fierro are among the top lawyers in Business and Corporate Law. Senior Counsel Harvey Frutkin was selected among the top attorneys in Tax Law.
Each year, Arizona Business Magazine publishes its "Top Lawyers List," which is a guide to the best and brightest attorneys in Arizona. The 2013 list will be published in both the March 2013 issue of Arizona Business Magazine, as well as the 2013 edition of Ranking Arizona.
Law firms throughout Arizona were given the opportunity to nominate lawyers for the list in 15 categories. All nominations were then put to ballot and attorneys, their peers, clients and associates were able to vote. Winners of the recognition were recently announced.
The Frutkin Law Firm consists of nine attorneys with decades of combined experience in the core areas of business law, bankruptcy, estate and tax planning, and civil litigation. For more information on The Frutkin Law Firm and practices areas, visit http://www.frutkinlaw.com.