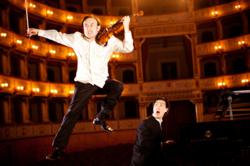 "The funniest show on music and the life of musicians I have seen since the great Victor Borge." — Gidon Kremer, violinist
Florence, KY (PRWEB) March 20, 2013
On April 6th, 2013 the Internet sensations Igudesman & Joo make their regional debut with the Kentucky Symphony Orchestra.The performance will be their second appearance with orchestra in the U.S. The program, "BIG Nightmare Music," is an up-sized and newer version of their side-splitting duo act —"A Little Nightmare Music" and employs the orchestra and individual musicians in sketches that combine and spoof classical music and pop-culture.
Millions of YouTube viewers can't be wrong. Well they can, but they aren't, and they've turned the inspired lunacy of musicians Igudesman & Joo into an internet and international sensation. Finding inspiration from such classical comedic forefathers as Victor Borge and P.D.Q. Bach, the duo relishes overturning traditional attitudes towards classical music. Like their predecessors, they are serious musicians who have turned the world's most esteemed concert halls into standing-room only comedy clubs.
BIG Nightmare Music is a delightful show full of virtuosity, enchanting music, and zany, outrageous humor. Ideal for audiences of all ages, it is sure to captivate and crack them up whether they're classical music enthusiasts or casual listeners. The program includes music by Mozart, Rachmaninoff, Bach, Vivaldi, Strauss, Beethoven, Igudesman, Joo and more.
In their review of one of I&J's recent performances, The Los Angeles Times said: "Since one clip is worth a thousand words, describing the Igudesman & Joo humor in detail would be to deflate its brilliance. For the put-upon Igudesman, think Jack Benny and Jascha Heifetz rolled into one. For the zany Joo, try a Chico Marx, Vladimir Horowitz and Jerry Lewis mash-up."
These partners in comic crime have also developed a huge celebrity following. For their 2012 appearance at Carnegie Hall, Billy Joel came on stage for an encore performance with the duo. John Malkovich has appeared in one of their skits. Yoko Ono attended their New York premiere. Be sure to check out their hilarious musical skits with John Malkovich or backstage banter with Yo-Yo Ma, a self-declared Igudesman & Joo fan, on YouTube.
I&J bring the same passion to their outside projects. Despite all the fun, they are serious, highly respected musicians. Aleksey Igudesman has worked frequently with Academy Award winner Hans Zimmer, and composed and arranged music for both "Sherlock Holmes" movies as well as being a featured soloist on the first film's Oscar-nominated score. Together they have also scored "Jealous of the Birds," a Holocaust documentary.
A prolific composer and poet, Igudesman has written a series of violin duets and more than 300 compositions, performed by internationally renowned soloists, ensembles and orchestras. As a solo violinist and conductor, he has worked with Kremerata Baltica, Lucerne Symphony Orchestra, Belgrade Symphony Orchestra, Virtuosi Italiani, among other orchestras.
Hyung-ki Joo was chosen by Billy Joel to arrange and record the pop star's CD of classical compositions. As a soloist, he has performed with the London Philharmonic, Royal Philharmonic, Kremerata Baltica, Copenhagen Philharmonic and Warsaw Sinfonia. Joo also has developed innovative workshops for young musicians designed to help them to think outside the practice room, deal with their ambitions and fears and gain new perspectives on their careers.
"Igudesman and Joo are admitted fans of 1940-50s parodist Spike Jones, but probably don't know that the KSO created many authentic performance editions of Spike's works over the past ten years. We are quite comfortable with comedy and craziness on-stage," said KSO music director, James Cassidy.
For 21 seasons the Kentucky Symphony Orchestra has presented programs that are unique to the region, while being accessible, fun and affordable. Mary Ellyn Hutton of Music in Cincinnati noted "the KSO has a distinguished history of innovation, exploration and knockout, one-of-a-kind programs." The Symphony closes its 2012-13 season in May with Amadeus at Vespers and "Shake Rattle & Soul."
At a time when the audience for classical music is declining, scores of college students and young children who know nothing about Bach are attending I&J's concerts. Along with global musical connoisseurs, the younger generation has helped Igudesman & Joo achieve their star status. In fact, their strongest demographic in the U.S. is among 15 to 35-year-olds. At a critical time for the industry, the duo is actually fulfilling a dream of building a younger audience for classical music.
Aleskey's and Hyung-ki's dream has been the KSO's raison d'etre since the orchestra's inception in 1992," James Cassidy was quick to point out. "When I stumbled upon these guys on-line a couple years ago, I knew immediately that we were destined to collaborate. "The KSO is proud to bring this multi-talented, international act to Northern Kentucky and Greater Cincinnati for the very first time."
Don't miss the only Midwest opportunity to see Igudesman & Joo live — Saturday, April 6 at 8:00 p.m. at the Florence Baptist Church at Mt. Zion. Tickets are $24, $32, $40 (children 6-18 are 50% off). For additional information and tickets call the KSO at (859) 431-6216 or visit http://www.kyso.org
About the Kentucky Symphony Orchestra include:
The Kentucky Symphony Orchestra takes the "phony" out of symphony and reaches 31,000 people annually through live thematic concerts that culturally enrich, educate and entertain the residents of Northern Kentucky and Greater Cincinnati. Current Music Director, James R. Cassidy founded the group in 1992 with an ambitious purpose – to create a new, broader audience for symphonic music. Through unique and innovative presentations, classical and other genres of music can be made attractive, accessible and affordable without compromising quality and integrity. The KSO, with offices in Newport, KY, can be found throughout Northern Kentucky (the Commonwealth's second largest population center) performing three series of concerts in churches, schools and parks. For more information visit http://www.kyso.org