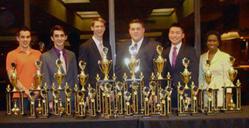 Lynchburg, VA (PRWEB) March 19, 2013
The Liberty University Forensics Team posted top wins at the 2013 National Christian College Forensics Invitational at John Brown University in Fort Smith, Ark., March 9-11, earning the team championship in its division. The five team members Liberty sent to the tournament won the top five overall individual speaking awards and five individual championships, as well as four second place and several third and fourth place awards.
There were nearly 500 entries in the individual categories from 25 Christian institutions across the country, including Oral Roberts University, Wheaton College, Seattle Pacific University, Kansas Wesleyan University, and Cedarville University.
The invitational tallied points earned from both individual/small group speaking events (forensics) and debate. Since debate and forensics are separate at Liberty, and the debate team was competing in the American Debate Association championships at the same time, Liberty only earned points on the forensics side. Even still, Liberty earned the most points in its division, and individually, sweeping both the individual sweepstakes and the open individual tournament sweepstakes.
"The only teams that earned more total points than us had debaters," said Christian Collins, forensics coach. "It was pretty neat that we were able to go to this tournament and show that we are able to compete at a high level. It especially speaks to the skill level and hard work of each of the team members."
Senior Josh Wade, who helped reinstate forensics at Liberty a few years ago after a brief hiatus, was the tournament's overall best speaker, finishing first in both individual sweeps and the open individual tournament sweeps. Junior Kenny Lau was second in both sweepstakes, finishing with the same number of points as Wade — Wade was granted the tiebreaker for winning more individual first place awards. Shadrach Hicks, a freshman, took third in both sweeps. Senior Colin Dowd finished fourth place in the individual sweeps and fifth place in open sweeps, right behind teammate Yemisi Egbewole, a senior.
Last semester, six team members qualified to compete in the National Forensic Association National Tournament, which will be held at Marshall University April 18-22.
Team Awards:
Reader's theatre – First place
Team sweepstakes (Division II) – First place
Individual Awards:
Prose interpretation – Lau, first place; Wade, second place
Faith literature – Dowd, fourth place
Dramatic duo – Lau and Wade, first place
Persuasion – Egbewole, fourth place
Programmed oral interpretation – Wade, first place; Hicks, second place; Dowd, third place
Dramatic interpretation – Egbewole, first place; Lau, second place; Hicks, fourth place
After dinner speaking – Wade, first place; Egbewole, third place
Poetry interpretation – Lau, second place; Hicks, fourth place
Rhetorical criticism – Dowd, fourth place
Overall Individual Awards:
Individual events sweepstakes – Wade, first place; Lau, second place; Hicks, third place; Dowd, fourth place
Open individual tournament sweepstakes – Wade, first place; Lau, second place; Hicks, third place; Egbewole, fourth place; Dowd, fifth place
About Liberty University:
Liberty University, located in Lynchburg, Va., is the world's largest Christian university. Nearly 100,000 students attend classes on its 6,800-acre residential campus and study in its thriving online education program.