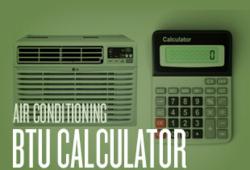 West Caldwell, NJ (PRWEB) March 20, 2013
Total Home Supply is excited to introduce a helpful new tool for determining the most appropriately sized air conditioning unit for your home or business. Using the brand-new Air Conditioning BTU Calculator available at http://www.TotalHomeSupply.com, customers can quickly and easily determine the number of BTUs sufficient to cool a given space.
Cooling values for common air conditioners are given in BTUs, or British Thermal Units, a measure of the energy content converted into heat by the unit. Total Home Supply understands that this industry-standard classification system for heating appliances is not entirely transparent and self-explanatory – they often receive questions from curious customers about the meaning of "BTU" and how to translate their personal needs into this non-descript numeric system. Up to this point, there has simply been no easy way to consider common knowledge about a space, such as volume and temperature, into a usable BTU value.
In acknowledgment of this common issue, Total Home Supply has created a helpful, easy to use tool for converting the requirements of your home or business into a BTU value, which can then be used in selecting the correct cooling unit. The Air Conditioning BTU Calculator is conveniently located on the front page of Total Home Supply's website. The calculator is an in-browser tool, meaning no software installation is necessary to make use of it. All that is needed are the required inputs for the space. These include:

Room dimensions in feet (length, width, and ceiling height)
Number of windows in the room
Number of doors in the room
Whether or not the room gets direct sunlight
The type of room
With this information, the calculator provides instant feedback on the BTUs per hour required for the given space. This value can then be directly compared to the BTU values found on product pages throughout the store. This ensures that the customer will find the heater most appropriate for their needs.
About the Company
Total Home Supply provides heaters, air conditioners, appliances, furniture, hardware, and all other common household products and accessories via its easy-to-use online storefront. The company is dedicated to providing the highest quality products at the best prices, while simultaneously providing fast, easy, and pleasant customer service to all its valued customers. Total Home Supply is based in New Jersey, where customers can find a companion showroom in Clifton which specializes in major appliances.