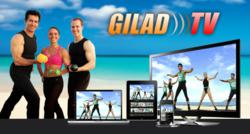 Gilad TV puts you in the driver's seat giving you control of when, where, and how long you wish to exercise.
Honolulu, Hawaii (PRWEB) March 19, 2013
Gilad Productions, Ltd. has launched a web-based exercise channel featuring hundreds of award winning workouts with Gilad. Gilad TV is available 24x7 on the Internet allowing members to work out with Gilad when and wherever they choose. The cloud-based service provides streaming access to the entire Gilad TV library viewable on today's most popular devices including PC, Mac, iPhone, iPad, Android powered phones and tablets as well as a dedicated channel on Roku set top box.
"I am thrilled to announce the launch of my own fitness network. Your body is your vehicle and regular exercise will ensure you a healthy ride. Gilad TV puts you in the driver's seat giving you control of when, where and how long you wish to exercise" says Gilad.
Gilad TV subscribers' work out with Gilad in his popular fitness show "Bodies In Motion" and handpicked selections from his extensive collection of home videos. Gilad TV refreshes adding seven new workouts every week. The Gilad TV service is available through his official website for a subscription of $9.99 per month at http://www.giladondemand.com.
Gilad is one of the world's most popular fitness personalities. He has helped millions stay fit with his popular TV fitness shows "Bodies in Motion" and "Total Body Sculpt" airing in more than 80 countries. Gilad is a National Fitness Hall of Fame inductee alongside fitness legends Jack LaLanne and Arnold Schwarzenegger.
Powering Gilad TV is the Networks on Demand (NOD) online video platform from Opper Sports Productions. The NOD Platform is an enterprise class technology that simplifies all of the complexities around the delivery of digital video. Available as a turnkey solution the NOD Platform allows video content owners to quickly and easily distribute digital media assets in today's interactive world.
For more information about the Networks On Demand platform visit http://www.nodplatform.com
Contacts:
Networks on Demand
Dustin Hood
858.481.7283
hood(at)oppersports(dot)com
Gilad Productions LTD
Rob Hearn
808.947.4911
ob(at)bodiesinmotionwithgilad(dot)com