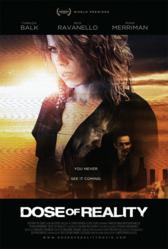 You Never See It Coming!
LOS ANGELES, CA. (PRWEB) March 19, 2013
Destiny Pictures and 6A Films proudly announce the Monarch Home Entertainment March 26th, 2013 DVD/BluRay release of the mystery thriller DOSE OF REALITY, starring Fairuza Balk (The Craft, Almost Famous, The Waterboy) Rick Ravanello (Harts War, The Cave) and Ryan Merriman (42, Final Destination 3). The film is written and directed by Christopher Glatis and produced by Ted Collins and Mark Castaldo.
DOSE OF REALITY begins when the doors close one evening at a seedy Los Angeles lounge. After Matt (Merriman), a handsome young bartender, discovers an attractive, bloodied woman Rose (Balk) passed out on the bathroom floor, the descent into utter chaos begins. He and his arrogant manager Tony (Ravanello), frantically argue about what to do when she wakes up and hysterically accuses them of attacking her. Taking matters into her own hands with irresistible charm and manipulative mind games, she discovers their deepest, innermost weaknesses. What started out as a quest to uncover the identity of her attacker quickly evolves into a scheme to reveal the secrets of everyone involved. But some secrets will remain hidden, others will identify a new victim, but one will turn everything you thought you knew upside down.
DOSE OF REALITY had its World Premiere in February at the 2013 Cinequest Film Festival in San Jose, CA. The film was one of the top trending movies at the festival with three full house screenings which garnered an additional encore showing. The response and reviews have been outstanding: "The American thriller Dose of Reality packs wire-to-wire intensity and a surprise ending, which is on the scale of The Crying Game, that no one will see coming." - THE MOVIE GOURMET. "This was such a cool film to watch! It had everything: a sexy, tough chick, great acting, awesome directing, and a wicked story that had one of the best twist endings I've ever seen at Cinequest." - PHIL'S FILM ADVENTURES.
Director Christopher Glatis says, "I have always been a fan of films that break new ground, push the envelope, and provoke and challenge me mentally and emotionally – those films that ask difficult questions, inspire discussions, and ultimately foster growth. Albeit challenging, I believe DOSE is a gripping ride that says something about the human condition and the addiction to drama. It is an emotionally raw film that I hope will provoke and inspire, creating conversation and debate."
For more information about the film, movie trailer and the exclusive opportunity to order the DOSE OF REALITY DVD (on sale March 26), please visit http://www.doseofrealitymovie.com or http://www.monarchhomeent.com and follow DOSE OF REALITY on Facebook and Twitter.