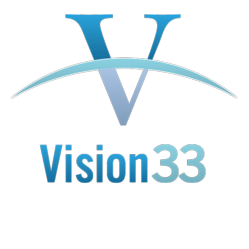 The real value in working with a well-known implementation partner like Vision33 is its expertise in the implementation of SAP Business One.
Irvine, CA (PRWEB) March 19, 2013
Vision33, recent recipient of the SAP® North America Partner Excellence Award 2013: Top Channel Partner – SAP Business One, today announced a milestone in its partnership with Envelopments Inc. following its successful implementation of the SAP Business One application. With SAP Business One, the Santa Ana-based leading build-to-order manufacturer of custom communiqués and high-end paper products, now has complete operational visibility needed to reduce its inventory holding costs, support new sales business processes, and reduce production time.
Envelopments Inc. began its operations in 1993, pioneering custom communiqués and paper presentations through a design outlet in the Irvine-based retailer, Elements. Introducing signature products such as the Envelopments Pocket Folds® Enclosures and creating the first mix and match custom invitation system led Envelopments to early success.
Investing in a more robust infrastructure to support its growing operations included larger warehousing to store inventory, add manufacturing processes, and developing an extensive Dealer/Designer network to expand their product line and sales channels. However without a solid, scalable business management software platform to manage its business growth, Envelopments did not have a free-flow of information necessary to control inventory and production costs, manage its vendor and customer relationships, or further scale its operations.
"As we grew we were falling behind with our data flow and orders; having to hold large amounts of inventory to prevent stock-outs resulting in increasing costs – this had to do with the lack of good reporting with our out-of-the-box accounting package which did not provide customized reporting or the business intelligence needed to support our scale of operations," recalls Mark Smith, Co-Founder, President, Envelopments. "Our goal then was to implement a business management solution that would enable us to better manage our data starting with order entry through manufacturing processes all the way to shipping and at the same time provide the company with the ability to customize reporting to obtain business intelligence to support our specific business processes."
As a part of the implementation process, a business process optimization was conducted in which Envelopments business process was dismantled and analyzed to determine where improvements could be made. This process underpins Vision33's role as a partner to challenge how manufacturers such as Envelopments operate in effort to streamline their business. "The real value in working with a well-known implementation partner like Vision33 is its expertise in the implementation of SAP Business One," said Mark Smith. "The application provides a platform that gives us the functionality that a manufacturer needs now but also the extensibility to enable us to support custom processes and do business our way."
Coming from a retail background, Envelopments' focus has always been on how to improve the quality of the products and services delivered to the customer. "With SAP Business One we now have complete operational visibility across our business, enabling us to predict and manage inventory on a minimum level so that we can eliminate excess holding costs," added Tom Johns, Vice President Business Development & Operations, Envelopments. "Now, when an order is made through our website, in many cases we have achieved turnaround with the order processed and waiting for shipping in about 14 minutes; that's real value for our customers."
With the implementation of SAP Business One now complete, Vision33 continues to work closely with Envelopments to find ways to further optimize its existing processes and open new business channels into the future. "By leveraging business management technology to support its growing business operations, Envelopments has demonstrated its commitment to delivering even greater value to its customer base," concluded Jeff Denes, General Manager of South West Region, Vision33. "We are excited to continue working with a dedicated, fellow Orange County business such as Envelopments and helping achieve its customer-centric goals for growth."
To learn more, read the Envelopments customer success story.
About Envelopments
Located in Santa Ana, California, Envelopments Inc. (http://www.envelopments.com) is a build-to-order manufacturer of custom communiqués and exemplary paper presentations offering the largest selection of custom enclosures, card stocks, papers and envelops created with a designer's palette of more than 250 stocks. Envelopments is the pioneer of the mix and match system of paper products, ideas and related tools all the while focusing on quality, unsurpassed customer service and extremely fast fulfillment.
Through an extensive network of dealers and designers and direct to consumer sales, Envelopments delivers its products and services such as the Envelopments Pocket Folds® Enclosures to cater to those who wish to communicate a message in unique and creative ways; from brides sending wedding invitations to businesses wanting to spread the word of a big corporate event.
Envelopments nurtures a creative, collaborative environment, which provides their staff, business partners and customers the opportunity to grow and enjoy the personal and professional rewards resulting from the company's excellence serving all 52 states across the US and doing business in 33 countries across the globe.
About Vision33
Headquartered in Irvine, California, Vision33 Inc. (http://www.vision-33.com) is a leading business management software solutions provider, focused on reselling and supporting the SAP Business One application and the SAP Business ByDesign® solution. Through its 13 offices located throughout the U.S., Vision33 provides software and consulting services to enable small to midsized businesses to gain immediate benefits in better managing and growing their businesses.
As an SAP gold channel partner, Vision33 has more than 500 customers throughout the U.S. Vision33 has been consistently honored for its notable growth and dedication, earning titles and awards such as being named the SAP Business One Partner of the Year, U.S., in 2012; Accounting Today's Top VAR 100 List; INC500/5000 fastest growing company lists; the Orange County Business Journal Fastest Growing Company List; and recognized as a finalist for a 2012 SAP Pinnacle award in the category "SAP PartnerEdge® Global Fastest Growing Reselling Partner of Year."
Vision33 is a member of the Group zed family of companies. With roots dating to 1992, Group zed (http://www.gzed.com) is a privately owned and operated corporation, which provides its family of industry leading companies with the strategic vision and tools to deliver on the promise of technology to customers, setting them apart from other industry peers.
###
SAP, ByDesign, PartnerEdge and all SAP logos are trademarks or registered trademarks of SAP AG in Germany and in several other countries all over the world. All other product and service names mentioned are the trademarks of their respective companies.
For more information, Press only: Sarah Coish +1 (949) 420-3000, sarah.coish(at)vision-33(dot)com