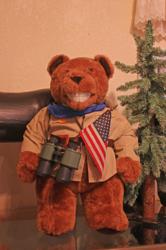 There are over 250 bears on display, and these will be continuously changing
Oakhurst, CA (PRWEB) March 19, 2013
A new museum showcasing the cuddly side of history opens in Oakhurst this Friday.
The Teddy Bear Museum of the Sierra showcases a collection of antique bears as well as the history of the Teddy Bear starting in 1902.
"There are over 250 bears on display, and these will be continuously changing," said Toni Lagunoff, one of the creators of the museum and member of the Mountain Bear Fan Club.
The nearly 300 bears are just a small percentage of the collection, which numbers well over 5000. The displays and exhibits will be refreshed frequently to keep the information and displays new to entice repeat visits.
When the museum opens, there will be displays featuring all English bears, England being where much of the history of Teddy Bears started, a display of miniature bears, and an array of patriotic bears with heavy emphasis on Teddy Roosevelt bears. Many historians believe the famed President is the source of the Teddy Bear name.
Another display tells the story of the Good Bears of the World, an organization that donates bears for children who have gone through traumatic experiences, such as fires, floods, domestic violence and more. The Oakhurst chapter of Good Bears of the World has so far donated over 150,000 bears, more than any other group worldwide.
The center display is an homage to Jean Eaton, another member of the Mountain Bear Fan Club who along with Lagunoff, Carol Atwood and Marlene Thomas, had talked about starting this museum for years. Eaton's passing late last year really spurred the other three in to action.
"This is a dream come true to open this museum in conjunction with the King's Vintage Museum," said Lagunoff.
"Jean was such a wonderful friend, we are all anxious to share one of her passions with people. She is missed."
The museum is located next to the King Vintage Museum in Oakhurst, and is open Wednesdays through Saturdays from 10 am to 4 pm. For more information, call 559-658-6999 or visit http://www.kingvintagemuseum.org.