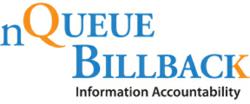 Law firms are finding a lot of value from automated scan workflows, especially when integrated directly with a document management system.
Tempe, Ariz. (PRWEB) March 19, 2013
nQueue Billback, the leading provider of software-based cost recovery systems today announced a limited time promotion to deliver its unified scanning solution, iA Scan Manager powered by iA Route, with no-charge unlimited multi-function device (MFD) licensing. iA Scan combined with iA Route allows users to effectively direct scans right from their MFDs while simultaneously managing and recovering costs.
"Law firms are finding a lot of value from automated scan workflows, especially when integrated directly with a document management system," said Daryl Moore, nQueue Billback's Chief Operating Officer. Advantages of unified scanning include measuring, and potentially recovering for, the number of documents being scanned, increasing the ability of documents to be stored and shared, and reducing the need for office space for filing and offsite document storage. By enabling delivery to a firm's document management system right from the device, iA Scan Manager powered by iA Route automates recognized information governance best practices. "The process works best when the interface appears on all devices," added Moore. "This is why we are offering free licenses for all MFDs."
nQueue Billback co-developed iA Route with DocSolid, leveraging that company's extensive experience with document imaging solutions. "DocSolid has proven to be an outstanding collaboration partner for scanning technology and we are pleased to be expanding our relationship. We also are now partnering with DocSolid to provide a full range of scanning solutions with Kwiktag Legal," said Rick Hellers, President and CEO of nQueue Billback.
"iA Scan Manager Powered by iA Route provides outstanding convenience for 'walk-up' scanning as it enables the routing of scans to network folders, email or document management systems directly from the MFD. KwikTag Legal comes into play for large projects, such as when a firm wants to scan stacks of profiled documents to the DMS or digitize paper as part of its accounting or records management process," said Steve Irons, President of DocSolid. "nQueue Billback's customers get the unique opportunity to choose between these solutions, or to combine them for the fullest benefit."
Both products allow scans to be automatically routed directly to a document management system, time-and-billing system, or directly to a user's email or desktop anywhere in the firm. Firms will gain more efficiency and security by reducing machine counts and the time it takes to scan a document and deposit it into the desired location and format. The products support popular formats such as searchable PDF, PDF/A, TIFF, MS Word and others, and are fully scalable to support any number of users.
Firms interested in nQueue Billback's full-scale scanning solutions can find more information at http://www.nQBillback.com. The "no-charge MFD licensing" promotion runs through June 30, 2013.
About nQueue Billback
nQueue Billback provides software-based information accountability solutions to more than 35 percent of the largest 250 law firms in the United States, seven of the top 20 in the U.K., seven of the largest 35 in Australia, and five of the Top 10 globally. The company assists firms by enhancing the automation and processing of operational and administrative expenses, including print, copy, scan, phone, fax, travel, court fees, research, overnight, courier costs, credit card charges and more on an extremely powerful platform. nQueue Billback's software offerings, branded iA® for Information Accountability, can be embedded directly into multi-function devices or reside on tablet computers or terminals to provide clients with the knowledge required to run their businesses more profitably. nQueue Billback is a wholly owned subsidiary of Reckon Limited and is the only truly global cost recovery company. To learn more about nQueue Billback and iA, please visit http://www.nQBillback.com.
About DocSolid
DocSolid creates, sells and supports scanning and document imaging solutions for the legal market. These patented solutions are enterprise-level implementations that streamline paper-burdened business activities and integrate with line-of-business software. DocSolid integrates with leading legal industry solutions, including Autonomy iManage, OpenText eDOCS, Worldox, NetDocuments, Prolaw, Thomson Elite and Aderant. DocSolid represents the industry's most experienced team of capture experts and serves thousands of worldwide users. Advancing simple, productive ways for clients to do more with less paper™, DocSolid connects people, process and documents. More information about DocSolid, including solution demos, is available at http://www.docsolid.com.