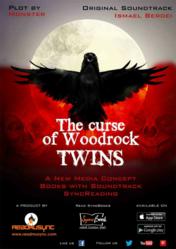 A thrilling thriller with strain from beginning to end
Santiago de Compostela, Spain (PRWEB) March 20, 2013
Synchronizing music, text and images immerses the reader into a multisensory experience: It is the result of merging the reader itself, art and science into a world halfway between cinema, music and literature:Try a whole new reading experience that you will never forget!.
Is it a book? Is it a soundtrack? No, it's a SyncBook!:Our first SyncBook, a new media type, is "The Curse of Woodrock: Twins".
A reading by Readmusync: RMS is a content developer, a start-up developed by a multidisciplinary group of professionals who combine their experience and concerns in order to create attractive, innovative and high-quality products (RMS collaborates in R&D work with the group ISAAC -Interdisciplinary Systems Approach in Artificial Cognition-, at the University of Zaragoza, Spain).