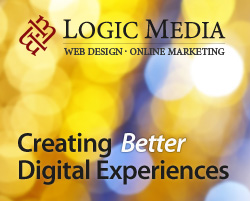 I think our success, growth and longevity are the direct reflection of our commitment to our clients and our dedication to improving their business
Louisville, KY (PRWEB) March 19, 2013
Louisville based website design and online marketing firm Logic Media (http://www.logicmediazone.com) celebrates their tenth year in business this April. Since 2003 they continue to offer their clients a complete set of online marketing and premier design services including custom web design, graphic design, and search engine optimization.
When Logic Media first started, the very concept of website design and online marketing for business owners was a fairly new idea that was still gaining traction in mainstream advertising. At that time, a large portion of the nation was still accessing the Internet through dial-up connections, and the web design industry had significantly less direction and standards.
Today, the website design and online marketing industry has found its structure, defined a new criteria for higher design standards, and established expectations for results. Logic Media credits their experience, knowledge, and enthusiasm for carrying them through the last ten years and helping them lay their groundwork for what website design is today.
"From the beginning, we started our company with a focus on providing extraordinary products and customer service to our clients through our website design and software development solutions," said Logic Media Founder, Elliott Bennett. "I think our success, growth, and longevity are the direct reflection of our commitment to our clients and our dedication to improving their business. This, combined with our enthusiasm for the industry, has served us well over the years."
With over ten years of experience and expertise behind them, the team at Logic Media looks forward to offering their cherished clients high-end digital products and experiences that help them grow their business and position themselves on the right track for the future of the online world and digital growth in the years to come.
"We are honored to be a part of the industry and want to extend a special thanks to our clients, partners, and co-workers who have stood by our side throughout the years," continued Bennett. "We would not have been able to reach this milestone without their support and loyalty. "
ABOUT LOGIC MEDIA
Logic Media is a Louisville, Kentucky based premier website design and development firm offering custom designed online solutions combined with company branding, conversion optimization, search engine optimization, and marketing tactics.
Contact Information:
Logic Media, Inc.
(502) 565-4013
(800) 261-1840
http://www.logicmediazone.com