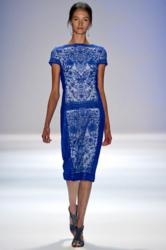 We are very pleased to feature the newest Tadashi Shoji collection on our e-commerce site.
New York, NY (PRWEB) March 18, 2013
Inspired by Russian winter luxe, Tadashi Shoji's signature fabrics and dresses transport the viewer to pre-revolution Russia. Shoji's Spring 2013 collection, debuted at New York Fashion Week, featuring velvet and lace dresses. Dark shades of burgundy, black, red and blue set the new color trends for the season accessorized with high waist belts, and heavy earrings.
Celebrities Selena Gomez, Octavia Spencer, Ashley Benson, Kate Beckinsale, Katy Perry, Dita Von Teese, are among many style icons spotted in Tadashi Shoji dresses. Shoji enthusiasts can look forward to an upcoming fashion show in April 26 in Beijing, China where eccentric styles will be incorporated into the show.
The designer dresses will be available at the end of April at MackTak Mart, the official retailer for Tadashi Shoji dresses. Some styles are currently available online for purchase. "We are very pleased to feature the newest Tadashi Shoji collection on our e-commerce site. We have worked with the designer for many years and he has always been one of the bestselling designers. The dresses are unique, trendy and elegant and that is how the designer has always positioned himself," says the MackTak Mart CEO Mack Tehrani.
Customers of MackTak Mart will be available to browse through cocktail dresses, evening dresses, prom dresses, runway dresses and dresses for mother of the bride or mother of the groom. Short and long styles, from sizes zero to sixteen. Free shipping will be available with any purchase within the USA. MackTak offers international shipping as well and free accessories with all purchases.
Get lost in Tadashi Shoji's Spring 2013 collection and find your own Russian escape.
About MackTak Mart New York:
MackTak was created by Mack Tehrani and the support of a close friend Ali Dowlaty. They were both in a music band that was started in college, but later on the band brought to the creation of a new brand called MackTak Collection. The brand specialized in unique and modern designed T-shirts, which are still available online at MackTak Mart. Today the brand carries more than fifty designer dresses for all types of events and occasions. MackTak Mart is a growing and very successful dress retailer that specializes in prom, evening, and cocktail dresses.
Media Contact: 212-302-2468 | marketing(at)macktakmart(dot)com