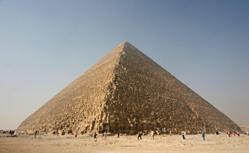 The Colosseum usually ranks low in must-see attraction lists, even though it's awesome.
Los Angeles (PRWEB) March 19, 2013
The Great Pyramid of Giza recently rose to #1 on Ranker's "Best Historical Landmarks to See Before You Die" list, a crowd-sourced list on the consumer opinions website, Ranker.com. More than 500 people have voted on this list as of March, 2013. The Great Sphinx of Giza also appears at number six, making Egypt the most sought after destinations inside the top 10.
The rest of the Top 10 Bucket List Destinations are as follows:
1) Great Pyramid of Giza
2) Great Wall of China
3) Taj Mahal
4) Colosseum
5) Machu Picchu
6) Great Sphinx of Giza
7) Sistine Chapel
8) Stonehenge
9) Acropolis of Athens
10) Eiffel Tower
Travel writer Danielle Dauenhauer, stated: "The Colosseum usually ranks outside the top 10 in must-see attraction lists, even though it's awesome," Said Dauenhauer, "but since 2010 visitors have been allowed in the gladiator tunnels which makes the experience pretty epic."
See the full List Of Historical Landmarks To See Before You Die, as well as 1000s of other Places and Travel lists at Ranker.com.
Ranker.com is the premier crowd-sourced platform for consumer rankings. Consumers visit Ranker.com more than seven million times a month to view, rank and vote on broad, opinion-based questions across a wide range of topics including food, sports, travel, entertainment, cars and many others. The Ranker.com results are pure, unbiased and based on semantic algorithms that assign values based on mean numbers and ranker behavior. For more information, visit Ranker.com.