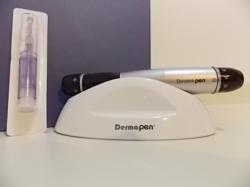 Dermapen offers exceptional results, is cost effective, easy to use and has better precision and control than more expensive treatments
(PRWEB) March 20, 2013
The Anti Aging Institute, located in San Jose, Costa Rica, has become a leading medical clinic in the field of anti-aging medicine and rejuvenation in Latin America and is always looking to offer its patients latest in what science and technology have to offer. The Anti Aging Institute is pleased to offer its patients the latest technology available in non-invasive facial rejuvenation. A perfect combination of science and technology is incorporated in the PRP with Dermapen application facial rejuvenation. This procedure provides a fast, cost effective, high quality facial rejuvenation with no down time, swelling or deep bruising.
To understand how the treatment works, Dr. Leslie Mesen Chief Medical Director of the Anti Aging Institute provides a brief explanation of what PRP with Dermapen application facial rejuvenation is and why it is considered to be such a good treatment and why it provides such positive results.
What exactly is PRP and how and for what purpose may this be used? What is Dermapen, how is that used? And what are the benefits of putting these two together?
Dr. Mesen explained that "PRP stands for Platelet Rich Plasma. This is a procedure that has been around for many years. We draw 60 cc of blood from a patient and then place this sample in a specially engineered vial and place it in a centrifuge for fifteen minutes. This process will separate the platelet rich plasma from the rest of the patient's blood which in this case will be the platelets, the cells that will be used in the facial rejuvenation.
Platelets are small, irregularly shaped clear cell fragments and a natural source of growth factors that circulate in the blood. Platelets release a multitude of growth factors which stimulate the deposition of extracellular matrix and play a significant role in the repair and regeneration of connective tissues. Platets bring nutrition and cell repair and growth to the area they are injected in. Local application of these factors in increased concentrations through Platelet-rich plasma (PRP) has been used as an adjunct to wound healing for several decades.
The Dermapen is an innovative and state of the art micro-needling device. Dr. Mesen explained how this works, to help understand what micro-needling is, what it does and how it benefits from working together with the PRP.
Micro-needling, also known as Medical Skin Needling and Collagen Induction Therapy, is a relatively new concept that has come about since the middle of the last decade 2000. "This type of treatment is aimed at stimulating the body´s own collagen production as well as elastin, by triggering the body´s natural healing process. The epidermal trauma caused by the micro-needling is superficial enough to heal itself without creating unsightly scar tissue, yet deep enough to induce minimal inflammation, thereby stimulating fibroblasts to create collagen and elastin in the epidermis," explains Dr. Lizano.
Here are some of the benefits of working with the Dermapen:
It works to tighten, lift and rejuvenate the skin. It is effective in reducing fine lines and wrinkles, minimizing pores, stretch marks, keloid, surgical and acne scars.
Its patent-pending, disposable micro-needling tip comes in sterilized individual packages that are easily replaced and loaded into the spring-automated device. This is great for both patient and health professional safety. No need for re-usable needles.
Its unique spring-loaded needle tip uses an automated, vibrating stamp-like motion that enhances results while offering a more controlled and safer method of treatment than other micro-needling devices. This stamping action with vertical needles is not only effective in minimizing pain and bleeding, but also offers a safe, consistent treatment method that better rejuvenates the skin.
Another great thing about this device is the needle depth that can be adjusted during the course of the procedure to accommodate different treatment areas, and can easily maneuver around facial contours and delicate features, such as the eyes, nose and mouth.
The reason for combining the two procedures will be to amplify the benefits of these by creating a synergy and getting the most out of the two. How is this achieved? The Dermapen's automated needling motion minimizes pain and discomfort, while better promoting an even absorption of the PRP, hyaluronic acid and peptides into the skin which enhances overall results. No matter the treatment modality, you will always deliver inferior results if not combined with the building blocks of topical nutrients for the cell to work with.
Dermapen offers exceptional results, is cost effective, easy to use and has better precision and control than more expensive treatments. And along with PRP, this ground-breaking technology, combined with low cost disposable tips, makes Dermapen together with PRP, a revolutionary breakthrough for beautiful skin.
To summarize, the collagen growth stimulated by the PRP combined with the collagen inducing action of the Dermapen's micro – needling and the hyaluronic acid applied after the treatment provides a turbocharged facial rejuvenation. Patients will enjoy tighter more supple looking skin, and see a reduction in fine lines and wrinkles. The full results are apparent about seven days after the treatment.
The Anti Aging Institute of The Americas is located in the San Jose suburb of Escazu in Costa Rica. The Anti Aging Institute also specializes in bio – identical hormone replacement utilizing human growth hormone HGH and testosterone replacement which when combined with an anti – aging life style of healthy nutrition and a good exercise program allows patients to look and feel substantially younger than their same age peers. Sixty – five percent of a person's health is determined by their DNA, the Anti Aging Institute focuses on helping their patients manage the thirty – five percent of their health which is influenced by their environment and life style.
USA TOLL FREE TELEPHONE NUMBER: 1 – 877 – 237 – 2482
COSTA RICA TELEPHONE NUMBER: 506 – 2289 – 6009
http://www.antiagingcostarica.com