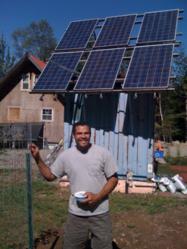 "From an eartheaded point of view, Walter is as close as one can get to being the complete renaissance man of the greenest variety." Phil Reavis, CEO Eartheaded Inc.
Somerville, MA (PRWEB) March 20, 2013
Meet Walter Cowham. Walter has solar panels on his roof, wind turbines in his yard and recycled steel in his home. Is he a millionaire? No. Does he think clean technology is achievable for everyone? You bet your life.
Walter is the first pioneer featured in eartheaded's monthly interview series with earthfolk. From March until December 2013, eartheaded will be posting an interview with an everyday environmental hero, someone who is defying the skeptics to create a better planet.
What's more, readers who sign up for eartheaded's email newsletter will also gain access to a free Tip & Resource sheet from interviewees. This includes practical tips on going green and a list of useful local resources. A sign-up form will be available on the homepage of eartheaded.com.
But the conversation doesn't stop there. To engage the community in the debate, eartheaded will be encouraging visitors to post feedback and engage in topical conversations on their Facebook page: http://www.facebook.com/eartheaded.
What's your biggest barrier to installing solar panels? What green technology should our government be investing in? How can we be more energy efficient at home? eartheaded will be asking the same kinds of questions that earthfolk have answered with innovation and imagination.
Walter met the challenge; now it's time to see if the country can do the same.