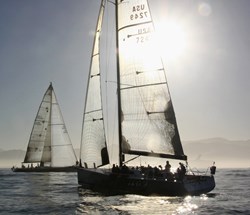 "The 125-nautical-mile Lexus Newport to Ensenada Yacht Race is steeped in history and is a wonderful tradition with one of our International sister cities, Ensenada, Mexico," remarked Gary Sherwin, President & CEO of Visit Newport Beach Inc. "
(PRWEB) March 20, 2013
For 66 years, seasoned pros and first-timers have gathered in Newport Beach to take part in the largest international yacht race in the world, the Lexus Newport to Ensenada yacht Race (N2E). First run in 1948, the event has attracted celebrities such as Humphrey Bogart and Walter Cronkite, as well as America's Cup winners Dennis Conner, Roy Disney and Steve Fossett.
This year's festivities will kick-off with the third annual Balboa Village festival on Sunday, April 21 from noon to 5pm at the Village of Balboa & Balboa Fun Zone. Locals and sailing enthusiasts can enjoy a day of live music, nautical displays, art exhibits, a La Strada dell' Arte chalk festival, food samplings from local merchants, Lexus car displays, children's boat building and other activities the entire family can enjoy. Admission to ExplorOcean and the kick-off festival is free. The yacht race will start on Friday, April 26 at 11am off the Balboa Pier.
"The 125-nautical-mile Lexus Newport to Ensenada Yacht Race is steeped in history and is a wonderful tradition with one of our International sister cities, Ensenada, Mexico," remarked Gary Sherwin, President & CEO of Visit Newport Beach Inc. "The addition of the kick-off festival in Newport Beach invites not just fans of sailing but the whole community to experience this fun, exciting event."
Complete List of Newport to Ensenada Events Include:

Sunday, April 21, 2013: Public Kick-off Festival at the Village of Balboa & Balboa Fun Zone
Wednesday, April 24, 2013: Yachtsmen's Luncheon, at 12-1:30pm at Newport Harbor Yacht Club
Thursday, April 25, 2013: The famous Pre-Race Fiesta at 6-11pm at ExplorOcean and Harborside Restaurant. The event will include food stations, live music and delicious cocktails.
Friday, April 26, 2013: Viewing of the race starts at 11 am off the Balboa Pier.
Saturday, April 27, 2013: Night Fiesta at 8-12pm at Hotel Coral in Ensenada.
Sunday, April 28, 2013: Trophy Presentation on, 2pm at Hotel Coral in Ensenada.
This year the skipper on the boat with the best corrected time will win a two-year lease on the dynamic all-new 2014 Lexus IS F SPORT. In addition to the wonderful trophy, the winner will also receive a four-day and three-night stay in a Master Suite at Hotel Coral in Ensenada, Mexico. Their stay will include complimentary breakfast for two and a 50% discount on standard marina rates.
For more details and an entire schedule of events please visit http://www.newporttoensenada.com
MEDIA CONTACTS:
Carrie Willams/ Cristen Stapp
Kitchen Table Marketing + PR
949.433.6735/949.294.0655
About Newport Beach, California
Nestled among golden stretches of pristine Pacific coastline between Los Angeles and San Diego, Newport Beach epitomizes the casually sophisticated lifestyle of Southern California. This idyllic seaside destination is widely celebrated for its natural beauty and vibrant yachting community alongside stylish accommodations, eclectic coastal cuisine and upscale shopping. Ranked among the "Top 10 Resort Towns in the U.S.," Newport Beach is also distinguished as one of the country's "Top 10 Best Family Beaches." A mild climate and picturesque backdrop minutes from the newly expanded Orange County/John Wayne Airport (SNA) offer year-round appeal. For more information on Newport Beach or for a complimentary visitor guide, please visit our website or call (800) 94-COAST.