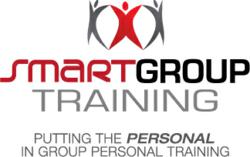 Elizabethtown, KY (PRWEB) March 19, 2013
Smart Group Training, an organization committed to improving the quality of small group and semi-private personal training, has just partnered with Dave "The Band Man" Schmitz on Smart Group Training with Bands, a new product. It is available online now.
Founded in 2012 by Steve Long and Jared Woolever, Smart Group Training emerged on the scene dedicated to revolutionizing the fitness industry through a group personal training model.
The company, which previously released Smart Group Training 1.0 – Screening and Corrective Exercise, has consistently sought to teach personal trainers how to improve the quality of their fitness offerings while operating within a group training system.
Now, the duo has teamed with world renowned resistance band training expert Dave Schmitz to unveil its latest product: Smart Group Training with Bands. The new product combines the group personal training expertise of Long and Woolever with Dave Schmitz's in depth knowledge of how to train with resistance bands.
"When we got in touch with Dave and he let us know that he wanted to work with us to bring resistance bands to a small group or semi-private personal training setting, we knew that the partnership would produce great results," Long says.
In the time since this initial conversation, Smart Group Training has collaborated with Schmitz on a comprehensive product designed to help personal trainers train groups of clients with resistance bands without sacrificing the quality and care of one on one training.
"One of the biggest problems I saw with group personal training before founding SGT with Jared was that trainers just didn't put the same amount of effort into screening their clients for limitations and understanding their movement patterns," Long explains.
Long elaborates that by failing to screen clients, trainers increase the risk of injury or ineffective programming. He notes that personal training in a group setting should maintain respect for the unique abilities of all the people in the group.
"When it comes to personal training in a group setting, resistance bands are invaluable because anyone can use them regardless of age or ability," Long notes. "But that doesn't mean trainers can ignore their clients needs."
As a result, Long and Woolever have incorporated Dave Schmitz's resistance band training expertise into a system that still makes use of screening, assessment, corrective exercise, and training the most important movement patterns.
Smart Group Training with Bands includes 35 corrective exercises for each of the 7 movements in the Functional Movement Screen. Additionally, it comes with 25 exercises covering the 5 major movement patterns.
As an added bonus, the product offers 3 months of done for you Smart Group Training-approved workouts with resistance bands.
For more information on Smart Group Training with Bands, visit: http://sgtwithbands.com/
About Pat Rigsby and Nick Berry: Pat Rigsby and Nick Berry are the co-owners of Fitness Consulting Group, a leading business development consulting firm within the fitness industry.
Smart Group Training is part of the Fitness Consulting Group family of companies. It provides personal trainers, coaches, and business owners with tools to improve the quality and reputation of group personal training.
To learn more about group personal training, visit: http://smartgrouptraining.com/