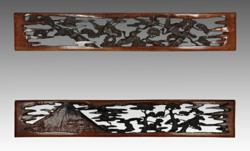 we did not expect to reveal two masterpieces
Chicago, IL (PRWEB) March 18, 2013
Primitive, the well known Chicago gallery restored a pair of 19th century Japanese door lintels known as Ranma and discovered they were made of a rare Japanese wood known as Tamo. Originally acquired at auction in Japan to supplement Primitive's architectural collection, the Ranma were in dismal shape, suffering from losses to the delicate carving. They were also painted, covering the unusual, swirling grain of the wood. Glen Joffe, the owner of Primitive, said, "We did not expect to reveal two masterpieces, just two wonderful works of art that would find a new home in the West." The two pieces depict traditional Japanese landscapes, capturing the elegant, airy beauty of Japan's outdoors and evoking the same feeling found in Japan's most famous art form - woodblock prints. Joffe added, "It almost seems like the carver printed the delicate grain of the wood on their surface." Tamo Wood was very rarely used in the making of Ranma.
In describing the Ranma, the gallery wrote: "Somewhere in the history of architecture the lintel or transom – the top of the doorway – went from being load bearing to ornamental. Although it's not typically mentioned in history books, it happened in just about every culture the world has known. This architectural change didn't reflect a shift in human consciousness. It represented a shift in human ingenuity inspired by the desire to bring art and beauty into everyday life.
In Japan, this shift occurred over a thousand years ago when lintels were carved to let light and air pass between interior rooms. Known as Ranma, they filled the space between the tops of sliding doors and the ceiling. Ranma were practical, functional works of art displaying the versatility and skill of the artisans who created them. The two Ranma being exhibited were actually created by furniture makers known as Tateguya in Japanese. These artisans rarely signed their work, were devoted strictly to the creation of Ranma, and were considered artists rather than just carpenters. Joffe also said, "In the absence of a signature we do not know the name of the artist who created this particular pair of Ranma, but we do know they were at an elite level due to the sensitive nature of the carving and how skillfully it was combined with the subtlety of the wood grain."
This restoration of the Ranma was carried out by Ngarwang Dudak, the Chief Restorer at Primitive and Kristian Damholt. After cleaning the paint and years of soot, losses were carved using materials meant to match the subtlety of the Tamo wood grain. Primitive's restoration philosophy is based on the idea of "bringing things back to life." Once the restoration was complete, the Ranma conveyed the elegant imagery of Japan's outdoors although they were originally meant to be used indoors. They are now as much at home on the wall as above the door.
About Primitive: located in downtown Chicago, Primitive presents authentic one-of-a-kind collections of furniture, artifacts, textiles, jewelry, fashion and artwork from around the world. Whether visiting in-person or on the web, you will find a vast colorful mosaic of authentic collections brought from some of the world's hardest to reach places. Everything offered by Primitive is collectible, has a story, history, purpose and design heritage, and comes "from the hand and heart."