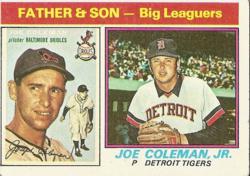 It could be, it might be… It is, A home run! - Harry Caray
(PRWEB) March 21, 2013
Most people when thinking of Family Trees and History might find their minds going into slumberland, however AncestorEbooks.com speaks out about four Family Trees whose men made MBL baseball what it is today.
Beginning with the earliest member of this Illustrious group of MLB Greats, I'm reminded of the '09 piece done by FARID RUSHDI on Joseph Patrick Coleman, (American Professional Baseball Player), who "went 3-0 with three complete games to start off his major league career". Joe was born 30 July 1922 in Medford, MA, and is the first of four families to have 3-generations of players in the Majors, a fete to be admired says AncestorEbooks.com.
Joe (Right-handed Pitcher) was signed by the Philadelphia Athletics as a free agent in 1941, then traded to the Baltimore Orioles in 1953 where he wore #35 until the Orioles released him on 1 July 1955. One week later he signed with the Detroit Tigers (#12) thru April 1956, although his final game was September 1955. Joe averaged $5,400 a year during his 15 years in American Baseball, doing what he loved. His son, Joe Coleman Jr. was a Major League pitcher for 15 years from 1965-79 and; his grandson, J. Casey Coleman, also a pitcher, is presently #27 for the Chicago Cubs.
AncestorEbooks.com says, 'The Coleman family may not have crossed the High Plains to places like Salt Lake City or San Francisco, but they have a big place in American History. These history makers deserve to have their Family Trees showcased in an Ebook and passed down to the next generation of American Baseball Players.'
Ray Boone, born 27 July 1923 in San Diego, CA. broke into the big leagues on 3 September 1948 when he was signed onto the Cleveland Indians at age 25. In his 13 year career Ray Boone hit .275 with 151 home runs for Cleveland, the Detroit Tigers, the Chicago White Sox, the Kansas City Athletics, and the Milwaukee Braves not to mention the Boston Red Sox. He was followed by his son Bob Boone, a catcher from 1972-90 and two grandsons, Bret and Aaron, who were drafted by Seattle Mariners and the Cincinnati Reds.
David (Gus) Russell Bell, Jr. (All-Star Outfielder) was born in Louisville, KY and came into his own at 21 when drafted by the Pittsburgh Pirates in May of 1950. His 14 year career included - Cincinnati Reds, from '53-61, the New York Mets in '62, and the Milwaukee Braves from 1962-64. Gus was the Father of Buddy Bell (Third Baseman and Outfielder of the Indians/ Rangers/ Reds/ Astros (1972-1989)), and Grandfather of David Bell (Third and Second Baseman whose last team was the Philadelphia Phillies in 2006), and Mike Bell (Third Baseman and Pinch Hitter whose final game, according to AncestorEbooks.com , was in October of 2000 for the Cincinnati Reds)
Another MLB Great, Samuel (Sammy) Harding Hairston, (Pinch Hitter and Catcher) was born 20 Jan 1920 in Crawford, Mississippi. Sammy left the Negro League and signed as a free agent for the Chicago White Sox on 21 July 1951; at 31 years old, he was already considered a grandfather by his teammates. Sammy Hairston only played the one year, however this Patriarch heads one of the biggest families of Major League Baseball with Sammy's sons, Jerry Hairston, Sr. (Left Fielder for the Chicago White Sox) and Johnny Hairston (Catcher for the Chicago Cubs), and grandsons Jerry Hairston, Jr. (Utility player for the Los Angeles Dodgers) and Scott Hairston (Left fielder for the Chicago Cubs).
AncestorEbooks.com states categorically that these great family-men in Baseball history deserve their own Memorial Ebook and look to the day when their Ebooks are passed down from iPad to iPad and generation to generation.