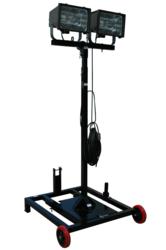 The WAL-2X400MCE is an ultra-stable telescoping light tower that produces 800 watts of metal halide lighting for wet areas and construction sites.
Kemp, Texas (PRWEB) March 19, 2013
The Larson Electronics WAL-2X400MCE Portable Work Area Light is a powerful lighting system that allows operators to easily illuminate 50,000 square feet of workspace while providing the versatility of portable operation. This portable work light features an innovative design that includes a wheeled base platform for easy movement around the workspace, a detachable metal halide lamp assembly, and an adjustable center mast that can elevate the lamps to provide maximum area coverage. This work light is suitable for use in wet locations and features a pair of 400 watt metal halide lamps with die cast aluminum housings, precision-formed aluminum reflectors, and heat/impact-resistant tempered flat door glass for durability and reliable operation. The lamps are attached to a removable mounting arm with U-brackets that allow each lamp to be adjusted independently of the other. Each lamp contains its own integral pulse start ballast for faster warm up and reliability, and heavy duty mogul lamp sockets allow newer lamps with higher pulse ratings to be installed if desired. The lamp assembly mounting arm attaches to an adjustable center mast that allows operators to elevate the lights for better coverage of large areas. The base stand features a wide footprint for stability and solid non static wheels to allow users to easily wheel the unit from one location to the next. To assemble the unit the user attaches the lamp assembly to the center mast and inserts a lock pin to secure it, the center mast can then be tilted up and locked into position and the mast extended for added height if desired. Once setup and the mast extended, the user can simply tilt the unit back and roll it into position as needed. All the parts of this unit break down and lock into holding positions on the base platform for added convenience, making it easy to take down and transport the system to the next location. The WAL-2X400MCE works with standard 110-277 universal current for added versatility and comes complete with 50 feet of SOOW cord fitted with a 5-15 straight blade plug for reliable and safe connections. This portable work light is a rugged and versatile lighting system that is at home in a wide variety of environments including shipyards, manufacturing plants, construction areas, plant operations, and just about anywhere an effective yet portable source of high power illumination is required.
"The WAL-2X400MCE is an ultra-stable telescoping light tower that produces 800 watts of metal halide lighting for Class 1 Division 2 areas," said Rob Bresnahan with LarsonElectronics.com. "Equipped with heavy duty polyurethane wheels and a unique mounting and transport system, this hazardous location area light is exceptionally safe and easy to deploy and take down. Other solutions in the marketplace require the operator to lay the whole light system on the ground, put the light heads on and then try to erect the entire system. I believe we have the only hazardous location light on the marketplace and enables operators to mount the light heads on a staging mount and then safely elevate the light mast with our slide mount base stand."
Larson Electronics offers a wide selection of HID work lights, HID light towers, explosion proof lights, HID flashlights, intrinsically safe LEDs and LED work lights. The entire Larson Electronics line of industrial grade lighting equipment can be viewed by visiting them on the web at Larsonelectronics.com. You can also call 1-800-369-6671 to learn more about all of their lighting products or call 1-214-616-6180 for international inquires.