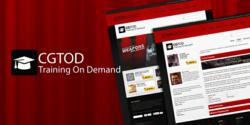 I've learned more about 3D for games in the last three weeks than in a year at college
Adelaide, South Australia (PRWEB) March 21, 2013
CGSociety has released the next generation of online CG learning: CGTOD (Computer Graphic Training-On-Demand). These dynamic, self-paced, and low-cost courses offer more than any school or college - they bring professional artists directly to students' screens, to share their passion, and the latest techniques and knowledge, all of which have been honed at the best film and game studios. CGTODs will enable everyone to learn at a pace that suits them.
Each training package contains a unique mix of written and video content, which exceed standard DVDs and downloads - up to 17 hours! Every CGTOD has been tried and tested at CGWorkshops - the premier digital arts education site, which has been delivering quality online training in partnership with expert instructors from game and film studios, such as Weta, ILM, Blizzard, Sony Santa Monica, and EA, since 2004.
In addition to Instructor created material and downloadable assets, student threads from previous CGWorkshops have been included with each CGTOD. Artists will learn by watching videos, completing assignments and by seeing how other students have approached and solved problems. "I think I've learned more about 3D for games in the last three weeks than in a year at college," said Kevin Fawcett, an alumnus of Modern Game Art Weapons by Bethesda Softworks' John Rush.
All CGTOD content is designed by high-end professional artists who share their solid, up-to-date understanding of the industry. In this way, students learn first-hand how to improve their skills in preparation for real-world employment in the game and film industries. It's not about how to use a particular piece of software. It's about how to make the best matte painting, the best special effect explosion, the best 3D model or the best animation.
There is nothing like this in any textbook, or university. CGTODs teach cutting edge techniques being used in film and games today. If you want to learn how to model, how to texture, how to use particle systems, how to rig, how to digitally paint and more - this is your one stop shop for online CG training. The only better way of learning is the personal guidance and mentoring students receive at CGWorkshops.
Visit CGTODs and start learning now.