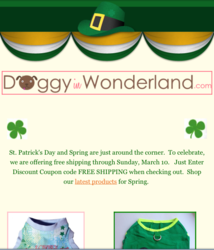 Sign up for our newsletter and come shop for your pet! We have many stylish, designer products that you and your pet will enjoy.
(PRWEB) March 21, 2013
Everyone can sign up to have the newsletter from DoggyInWonderland.com delivered straight to their inbox via e-mail. When you sign up online, you receive an instant e-mail with a coupon code good for 10% off your next purchase and everyone who signs up for the newsletter between March 21, 2013 and April 29, 2013 will be entered in a drawing to win a $100.00 Gift Certificate to shop online at DoggyInWonderland.com. The winner will be randomly selected on Tuesday, April 30th and announced on Doggy In Wonderlands's Facebook & Twitter pages. The newsletter is sent 1-2 times weekly and contains updates on new dog products, and seasonal items, as well as discounts that are available. It also contains pet related quotes, pictures and helpful tips on pet care. The newsletter is an informative but short read.
DoggyInWonderland.com has provided various methods to sign up for the newsletter. The newsletter sign up form is available on the website under "Join Our Newlsetter", on the website's Facebook Page, on their Twitter Profile. We have provided a picture of a sample newsletter to the right. The managers at DoggyInWonderland.com are excited about growing their newsletter group, "We love all things related to our precious pets and we're excited about expanding our newsletter readership so we can reach out to all those other pet lovers out there! We have a few ways to sign up online and we'll take names and e-mail addresses and sign people up at the local events we plan to attend over the next month. If you're in our local area, bring your pet(s) and come join the fun!".
The staff of DoggyInWonderland.com will be at several events in their local area of Houston TX over the next month:
*March 23-24, Paws In The Park, Pearland TX
*April 6, Doggy Party On The Plaza, Houston TX
*April 13, Houston Pet Expo, Houston TX
*April 27, Bark in the Park, Galveston TX
About DoggyInWonderland.com: DoggyinWonderland.com is a leading online pet boutique offering a wide array of pet accessories and other products for dogs and cats. This includes a full line-up of chic dog products such as stylish dog clothing, collars and leashes, pet furniture and dog beds, eco-friendly pet gear, healthy dog treats, dog toys, pet carriers, and a growing collection of cat products as well. The goal is not only happy and healthy pets, but also 100% customer satisfaction. Call 866.280.1818 for more information, and see the full product range at DoggyinWonderland.com.