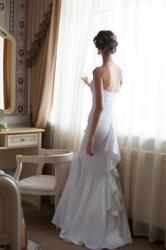 Newport Beach, CA (PRWEB) March 19, 2013
In recent years, brides have thrown out the notion that wedding dresses have to be white in color. Instead, many choose gowns that are some shade of tan or cream while others go for the over-the-top look and opt for completely non-traditional colors such as pink, red, or even black. Lady Gaga is one of the latter brides.
Engaged to Taylor Kinney since September 2011, singer Lady Gaga is reportedly having designer Donatella Versace create her wedding gown. In true Gaga fashion, the dress will be black and gold with diamonds on the bodice and will have a removable skirt and train (http://www.irishcentral.com/story/ent/amyandrews_gossipgirl/lady-gaga-is-expected-to-wear-a-donatella-versace-wedding-dress-when-she-marries-taylor-kinney-198763221.html). Like Lady Gaga, many brides believe white is too traditional and would rather have something less orthodox for their wedding dress, according to Wedding.com.
"Gone are the days where wedding gowns have to be a stark white. Different colored wedding dresses are fairly easy for any bride to find," says Brett Reynolds, CEO of Wedding.com. "Many still select white dresses, but a growing number of brides want something flashy."
For more information about Wedding.com, please visit http://www.wedding.com.
About Wedding.com
Wedding.com is an innovative new website that connects engaged couples planning their wedding with wedding vendors looking to grow their business. Wedding.com contacts vendors for couples, giving them the power to compare and negotiate while ultimately saving time and money. With 12,000 couples and 22,000 vendors currently using the website, 105,000 proposals have already been sent since their inception. Vendors range in services from wedding planners, photographers, florists, and DJs to custom invitations, party favors, and much more. For additional information about the company and its services, please visit http://www.wedding.com.